Binance, the world's largest crypto exchange by trading volume, had temporarily suspended withdrawals of DOGE following an upgrade on November 11, 2021.
"We discovered a minor issue with DOGE network withdrawals on Binance after carrying out a version update on 2021-11-10," Binance said in a post on November 11, 2021 without specifying what the "minor issue" was. "As a result, we have temporarily suspended DOGE network withdrawals until this issue is resolved. Binance is actively working with the DOGE project team to resolve the issue."
Now, according to the tweet from Watcher.Guru, this is confirmed that, "Binance fully reopens DOGE withdrawals."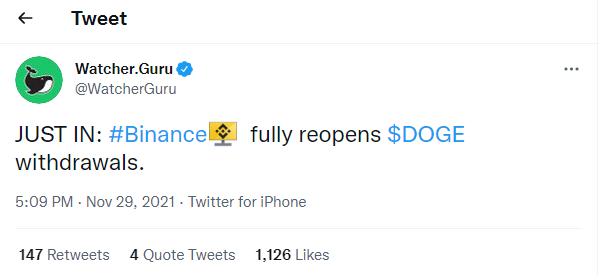 Binance has fully opened withdrawals of Dogecoin after a technical glitch that provoked a heated back-and-forth between Elon Musk and the exchange's chief executive officer (CEO).
Traders were unable to withdraw Dogecoin for more than two weeks because of problems related to a network upgrade, according to a statement on Monday (Nov 29). Binance, the world's biggest crypto exchange, said the glitch was "an unlikely and unfortunate coincidence" and "not quite the shady circumstances that some had suggested".
That appeared to be a reference to Musk's allegation on Twitter last week that the issue "sounds shady".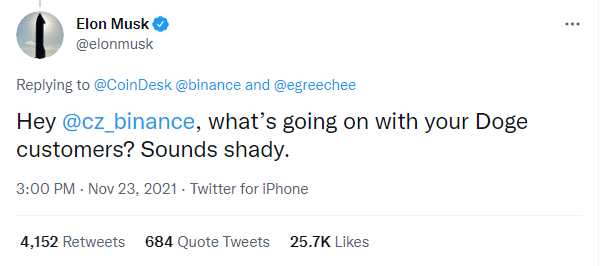 In response, Binance CEO Changpeng "CZ" Zhao posted a link to a story about Musk's Tesla Inc recalling nearly 12,000 cars as the result of a software glitch.
"No single entity was at fault. Neither Binance nor the DOGE network had prior knowledge of this rare issue. So rest assured as CZ said — no one's getting fired," the Binance post said, linking back to an update from Zhao last week where he made that vow.
Follow Us on Twitter and Facebook.
Disclaimer: This content is informational and should not be considered financial advice. The views expressed in this article may include the author's personal opinions and do not reflect The Crypto Basic's opinion. Readers are encouraged to do thorough research before making any investment decisions. The Crypto Basic is not responsible for any financial losses.
-Advertisement-