After commenting on a tweet by Jack Dorsey, former CEO of Twitter, the CEO of Binance, Changpeng Zhao received a short and harsh response.

The context of this story involves web3, which Dorsey says will be dominated by venture capital firms. While the purpose of Web 3 is to make the internet more decentralized, Jack believes that VC firms will dominate this phase of the web.
Dorsey's answer implies that there is a lack of actions and only words in the web3 sector. Another point that supports his thinking is his motivation to not get involved with Ethereum and focus only on Bitcoin, as according to Dorsey BTC belongs to all people and not to a group or any individual.
After confronting Elon Musk last month, Changpeng Zhao, founder, and CEO of Binance appears to have found a new opponent to make a match with, Jack Dorsey.
Dorsey recently left the post of CEO of Twitter, the company he founded, to dedicate himself to Block — formerly Square — and develop solutions aimed at adopting Bitcoin.
This Wednesday, Dorsey posted a short tweet related to web3, quickly CZ, CEO of Binance responded and ended up getting a harsh response.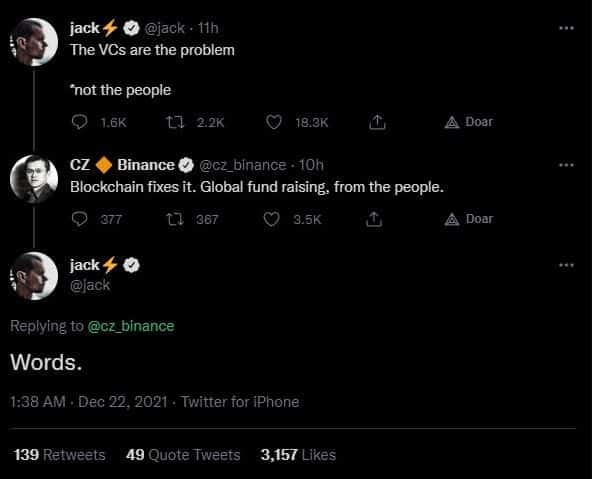 source: Twitter
Dorsey attack could be related to Andreessen Horowitz's a16z company that led investment rounds on several projects such as Sky Mavis (creator of Axie Infinity), Open Sea (the largest market for NFTs), and others. Thus, having great influence in decision-making in a sector that, in theory, is decentralized.
While the purpose of Web 3 is to make the internet more decentralized, Jack believes that VC firms will dominate this phase of the web. Elon Musk making fun of Web3 said " Has anyone seen web3, Jack replies It is somewhere between a to z"
It's somewhere between a and z

— jack⚡️ (@jack) December 21, 2021