What is LUFFY?
The world's first anime token, LUFFY, with the sole purpose of building an entire ecosystem for investors and fans alike. This community-driven token is creating a safe and exciting space for investors and fans alike with modernized tooling, advanced DeFi platforms, education, P2E gaming, metaverse, and world-class artwork as well as to help underpaid anime and manga artists.
LUFFY Token Overview
Total Supply: 100,000,000,000,000,000
Circulation Supply: 45,781,517,872,373,386 (burnt 54.22%)
Transaction Tax: 9% (3% is distributed as rewards to holders, 2% is burnt, 2% contributes to their liquidity pool, 2% contributes to marketing wallet)
Market Cap: 60,917,118 USDT
Launch Date: 4th August 2021
Coinstore.com Listing: 4 January 2022, 16:00 (UTC +8)
Deposit Time: 4 January 2022, 14:00 (UTC +8)
Withdrawal Time: 4 January 2022, 14:00 (UTC +8)
 What is the Token Utility of LUFFY?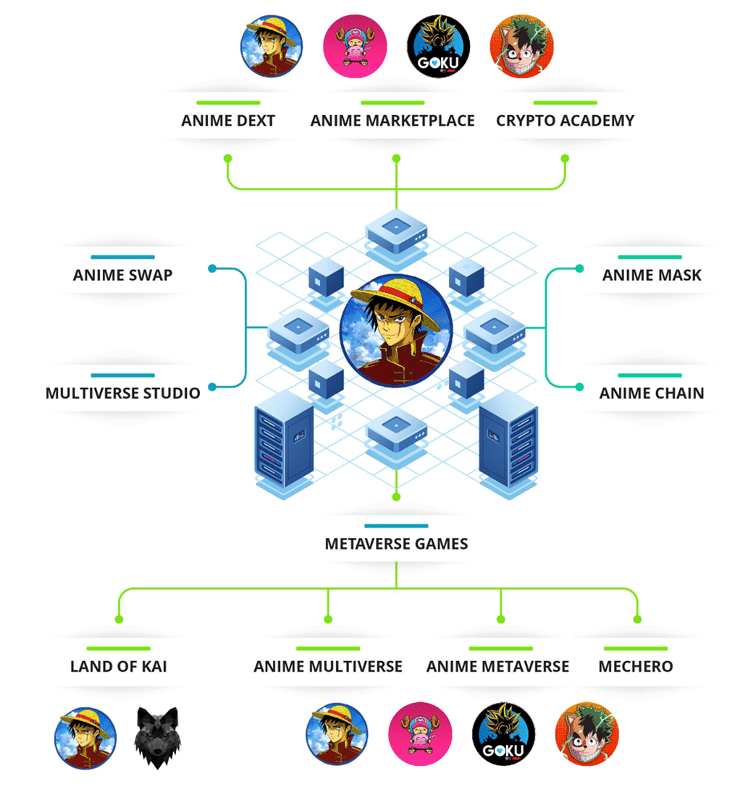 As a token that aims to create a safe and exciting space for investors and fans alike, LUFFY has multiple cases-uses such as:
Anime Dext: View live charts & find detailed information about your favorite tokens within seconds.
Anime Marketplace: Buy, sell, and auctions anime or manga-related NFTs. Fully support underpaid anime and manga artists to earn passive income via Anime Marketplace.
Crypto Academy: Provide a solid understanding of the fundamentals for investing in cryptocurrency.
Multiverse Studio: Host VR events between LUFFY investors and Celebrities.
Metaverse Games: Including Land of Kai (3D RPG Open-World Game), Anime Metaverse (Anime Fighting Game), Mechero (Anime Fighting Game), Anime Multiverse (Battle Royale Open-Word Game).
Anime Swap: DeFi platform for swapping tokens, providing liquidity, staking and voting.
Anime Wallet: One-stop shop multi-chain wallet with various payment options.
Anime Chain: A protocol for building and connecting all meme and anime tokens launched on Ethereum-compatible blockchain networks.
At the time of writing, one LUFFY token is valued around $0.000000001338~USDT, with a 24-hour trading volume of $1,603,270.18 USD. With aspirations to equip the crypto space with innovative utilities and foster a healthy and educational community, LUFFY is expected to achieve global expansion and widespread adoption.
A Closer Look at LUFFY's Tokenomics
LUFFY has a creative burning mechanism; more than 54% of the total supply has been burnt and the burning rate is expected to reach 70% by the end of 2022, thanks to the monthly burn event and successive burns of 2% on each transaction.
For every transaction, 3% are distributed as rewards to holders, 2% are allocated to their liquidity pool, 2% are issued to marketing, and 2% are burnt.
LUFFY's Roadmap
LUFFY is a registered company with an experienced team that has been fully disclosed. Our goal is to provide incredible utility and tooling to the crypto space as we aim for a presence on all of the top cryptocurrency exchanges., LUFFY has mapped out several exciting milestones in order to reach its goal. Here is a look at what objectives they plan to accomplish in their 2 years.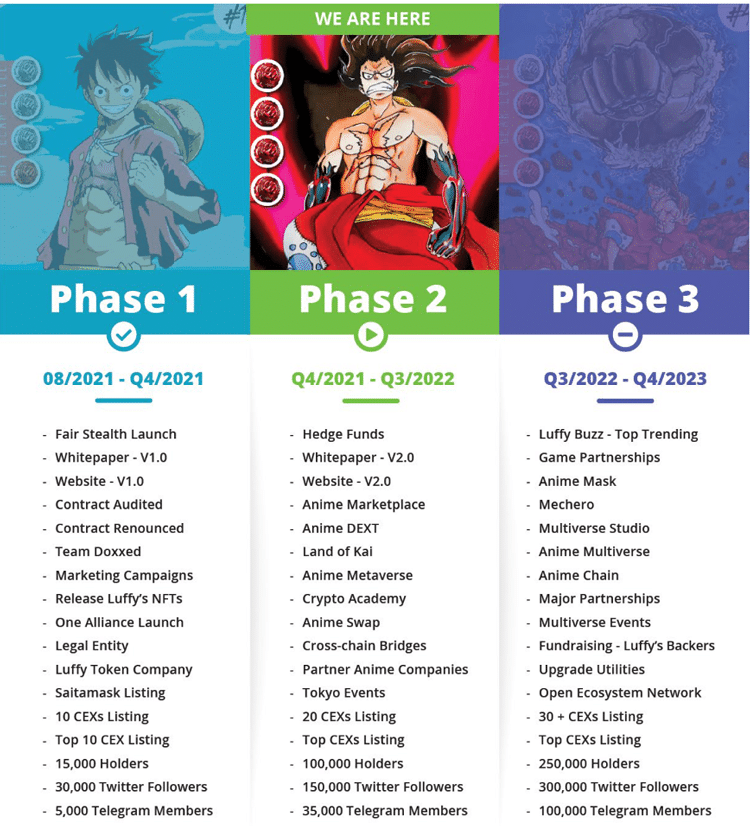 Users who are interested in trading LUFFY can check out Coinstore.com from 4th January 2022 onwards, and be a part of this thrilling project!
LUFFY's Official Channels
Website: https://luffytoken.com/
Telegram: https://t.me/joinchat/R4fpgPGB0l9kMGJi
Twitter: https://twitter.com/luffyinutoken
Facebook: https://www.facebook.com/groups/1254762111629194/
Discord: https://discord.com/invite/erqwUsSssf
Get LUFFY on Coinstore.com: https://www.coinstore.com/#/spot/LUFFYUSDT
Download the Coinstore.com app: https://www.coinstore.com
Coinstore.com's goal is to advance the crypto industry to the next level and provide access to popular digital assets to the mainstream public. Encompassing a whole new concept of "fun" in finance, Coinstore.com also aims to equip our users with experience and techniques to buy, sell and trade on the go. Still in its up-and-coming stages, Coinstore.com welcomes community members and interested influencer partners to join us for collaborations.
Media Contact:
Charles Tan, Marketing Head, Coinstore.com
Liu Yi Yun, Branding Executive, Coinstore.com
Social Media:
Twitter: https://twitter.com/coinstore_en
Telegram Discussion Group:https://t.me/coinstore_english
Telegram Announcement Channel:https://t.me/coinstore_global
Facebook: https://www.facebook.com/coinstore.en/
Website: https://www.coinstore.com
Discord: https://discord.gg/KKHtHa4KPX
Instagram: https://instagram.com/coinstore_exchange
Youtube: https://www.youtube.com/channel/UCHu0m61HHuDftQVE_0jHaYA/videos
TikTok: https://www.tiktok.com/@coinstore_global