- Advertisement -

Let's face a simple fact at the outset. As fascinating and enticing as crypto trading looks like, it is not built for everybody. Only an elite few understand that it requires a lot of in-depth knowledge of the tools, a proper risk management strategy, a hedging strategy, and lots of 'WTF' sprouted out of your mouth every minute. Recent research alluded to the fact that 90% of crypto investors lose money in trading. Yet, everyone loves to fall into this rabbit hole and somehow enjoys it as well. 
Have you ever wondered why?
Humans have an innate tendency to speculate. On anything. LITERALLY ANYTHING!
From weather to sports to stocks to politics to everything under the sun. And, if the volatility factor kicks in, it just raises the adrenaline level 'to the moon'. Crypto has all the perfect ingredients to make up for a mouth-watering speculative dish. A dish that gets consumed like hot pies. 
Simply put, it really is fun. Okay, maybe part fun, part serious business. But, the question arises why do most people lose money in crypto trading?
There are many versions out there but one closest to reality is that because people simply don't understand complex concepts like leverage, hedging, risk management, stop-loss, etc (or maybe they are designed in a way that not everyone can understand? 🤔)
So, have we hit a dead-end here?
One might think so, only and only if they are oblivious to the concept of prediction markets. Prediction markets allow you to predict real-life events and make money on correct predictions. 
Not only does it come at a much lesser risk (since you are not required to have skin in the game), it also allows you to rack up big rewards and ROI within a much shorter time. This essentially takes your dinner-time speculation discussions to a platform and incentivizes you in case you are right. Now, imagine a platform solely dedicated to the most speculative asset of our times: Crypto.
PlotX is one such platform where users have been getting up to 4X ROI for correct predictions every hour. Not only do you speculate and predict crypto prices on PlotX but you also earn crypto for every correct prediction. That is a combination that simply spells "M.O.N.E.Y". If you ask the 80k+ users on PlotX, they will validate those claims.
PlotX has 9 crypto assets to predict on: BTC, ETH, MATIC, BNB, SOL, AVAX, DYDX, DOGE, AXIE with 4-time frames: 15-min, hourly, daily & weekly. So, basically, if you were to predict on BTC in an hourly market, you will have to predict if the price of BTC will go up, down, or sideways in the next 1 hour. No leverage needed, no hedging, no stop-loss, no complex bullshit. Just a simple question and your prediction. That's it.
How do you choose a market to predict in?
15-minute markets: Are you the sort of person who gets up to collect the luggage as soon as the plane lands? As in, patience is not your best virtue. Then the rapid markets are for you, for the degen in you. Instant markets and instant payouts. Hate waiting? Go Rapid.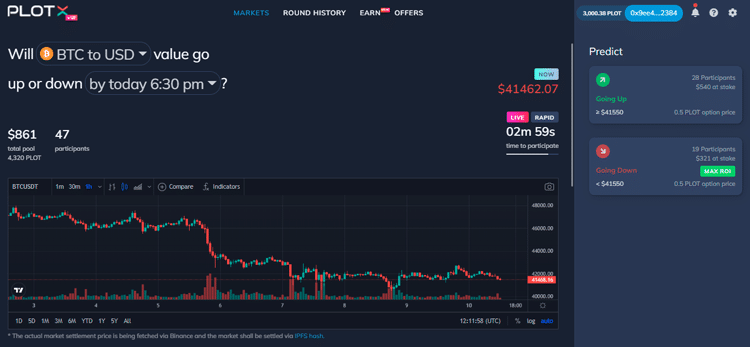 Hourly Market: Can you place a prediction and then go see an episode of 'Succession' before coming back to see the result? As in, you are mildly impatient but can hold it in for an hour or so. Presenting the Hourly Market for you.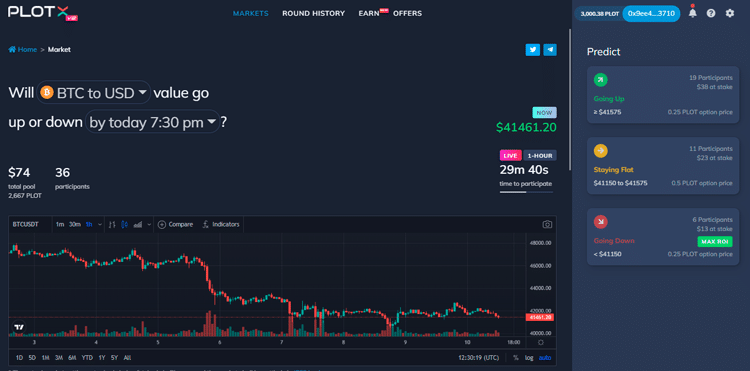 Daily Market: If you believe 'the trend is your friend' and can wait for the earth to rotate on its axis, then the Daily market fits the bill for you. You are a degen by soul trapped in the body of a zen investor.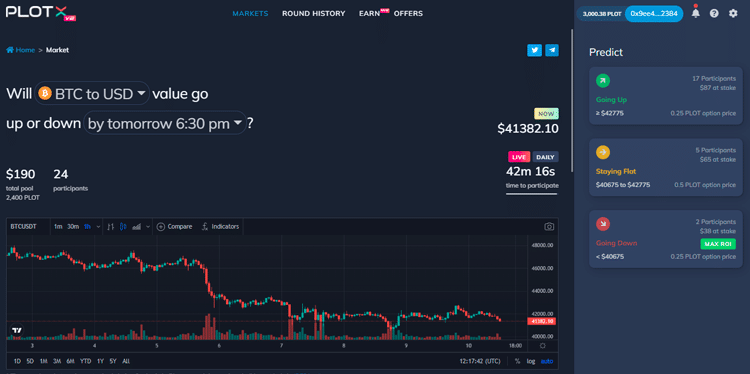 Weekly Market: You see, hear, smell and feel charts. Your favorite pastime is drawing lines over the chart, marking your entry and exit positions and having the patience to watch your prediction come true 1 week later. You are not in for instant gratification but have the foresight to forecast 1 week in advance.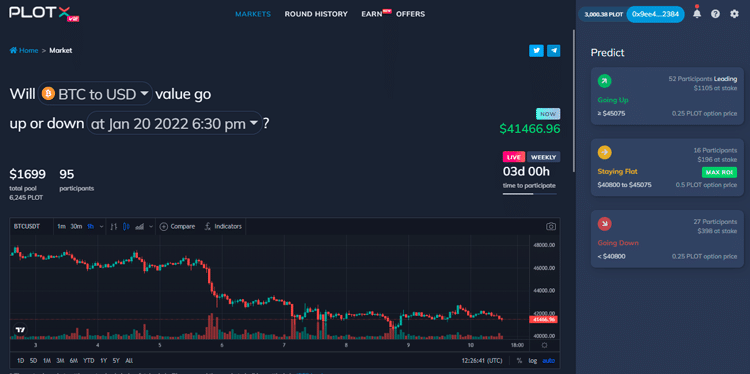 So, how come crypto traders still lose their money and sleep over crypto trading and not on prediction markets?
Because the road to adoption is long and paved with obstacles, ignorance, and misinformation. Prediction markets have come a long way but there are bigger citadels to conquer. PlotX, one of the cornerstones of the rise of DeFi prediction markets, has seen a 50X growth in user base in the last few months. The 80k+user base of PlotX makes up for great metrics and optics however, this is just the beginning as per their own claims. PlotX plans to recruit more and more users and if their roadmap & growth chart suggest anything, it is that the current user-base numbers are going to be dwarfed in comparison.
Why should we be excited about that?
Now comes the best part, more users translate to a bigger reward pool which in turn, translates to your wallet going brrrrr…….
With the current liquidity, users earn up to 4X ROI but with higher liquidity, this number can shoot up to 10X, 100X, or even 1000X. So, you don't need to become an investor in some meme coin and wait for the perfect exit moment to boom your profits.
So, how does the idea of taking your dinner table speculation conversations to a platform and winning 4X ROI sound to you? Would you pick Crypto trading over this in your right mind?
In case you are the sane one, see you on a prediction market.