- Advertisement -

Walmart looking to launch its crypto and NFTs for its Metaverse.

According to CNBC, the gigantic supermarket chain Walmart is preparing to bring itself into the crypto, metaverse, and NFTs market.
In August, Walmart took a big step toward Crypto as Walmart was looking for a "Digital Currency And Cryptocurrency Product Lead" Vacancy. The position was supposed to create a brand's digital currency strategy, define and drive the product vision, and identify and lead technology and consumer trends.
According to The Verge, a video of Walmart metaverse, which circulated on the internet in early Jan 2022, showed that the company started testing a shopping model in the virtual format a few years ago. Walmart's moves suggest metaverse and cryptocurrencies are not far from the company.
Recent actions by Walmart demonstrate that the company's interest in the metaverse and cryptocurrencies is growing over time. According to journalist Lauren Thomas, from CNBC, on December 30, Walmart filed several patent applications in the United States to deal with these technologies.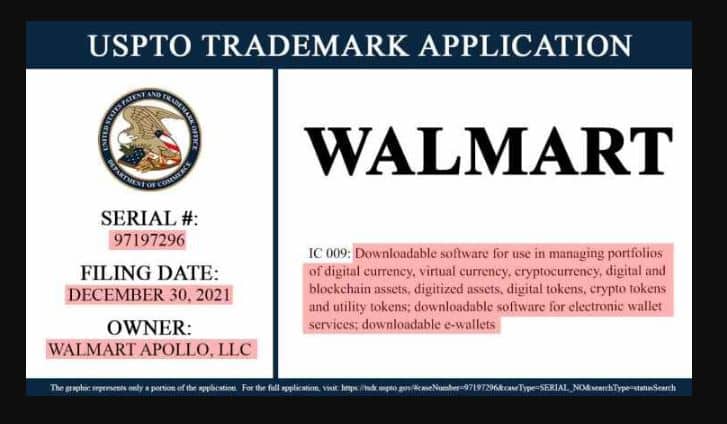 In all, with seven patent applications listed, the company has made it clear that it is keeping an eye on the market. One of the fillings shows that Walmart is looking to offer users virtual currency and NFTs.
CNBC writes: "In a separate filing, the company said it would offer users a virtual currency, as well as NFTs."
According to a lawyer Josh Gerben, specializing in trademark registration in the United States, speaking to CNBC said:
"They're super intense, There's a lot of language in these, which shows that there's a lot of planning going on behind the scenes about how they're going to address cryptocurrency, how they're going to address the metaverse and the virtual world that appears to be coming or that's already here."
CNBC writes that it appears Walmart will launch its crypto and NFTs according to its metaverse plans.
"Walmart appears to be venturing into the metaverse with plans to create its own cryptocurrency and collection of NFTs."'
Walmart made no comments on CNBC report and recent patent fillings but told CNBC:
"We are testing new ideas all the time; Some ideas become products or services that make it to customers. And some we test, iterate, and learn from."
Recently Walmart introduced Bitcoin ATMs In over 200 Locations across the U.S.