Shiba Inu (SHIB) Join the Top Cryptocurrencies by Volume in CoinDesk's Quarterly Ranking.

The official CoinDesk assets volume on trusted exchanges 2021 Q3+Q4 list is released. Shiba Inu (SHIB) made its way to the list for the first time.
According to CoinDesk's blog post:
"The CoinDesk 20 is a list of the top cryptocurrencies by volume, as measured on a select list of trusted exchanges. The list is reconstituted quarterly, using data observed over the prior two quarters. This time AVAX, LUNA, MANA, SHIB Are In; Bitcoin Cash, EOS, ETH Classic, Filecoin Are Out"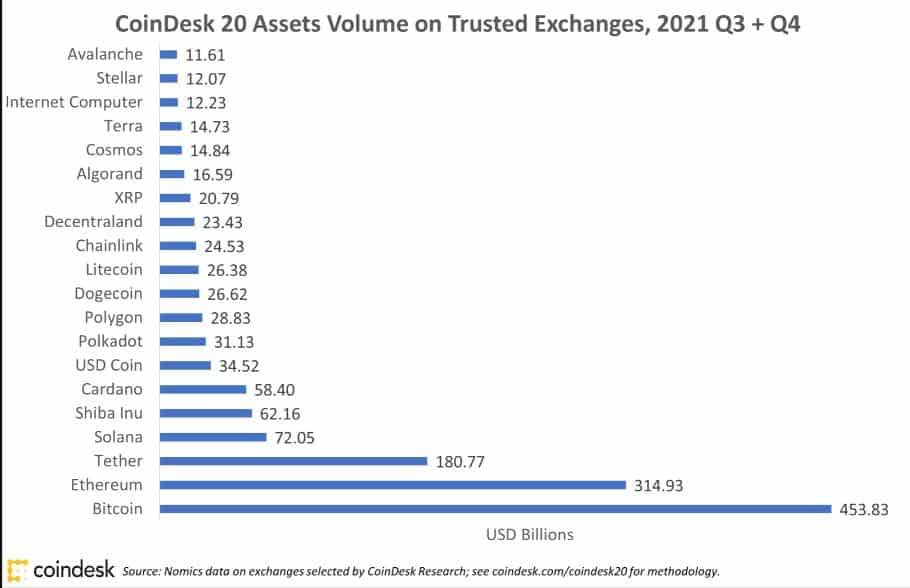 While making a list, CoinDesk noticed that layer one smart contract platforms are surging considerably and are on the way to offering new alternatives to Ethereum, making it believe that an earlier generation of currency and Web 3 innovation is losing its luster.
Shiba Inu token, a competitor of Dogecoin, went viral when Vitalik Buterin sent 41% of its supply to the dead wallet for the first time in May 2021, saying that "he doesn't want to be a locus of power". The Shiba Inu team gifted Vitalik Buterin 50% of the supply of SHIB.
As per data provided by CoinMarketCap at the current price of $0.00003061, Shiba Inu has given an eye-popping Return on Investment (ROI) of 1900437.21% to its holders.
During October's Bull Run, Shiba Inu registered its all-time high price (ATH) of $0.00008845, which represents that the token is now up a whopping 37544828.31% from its all-time low (ATL) price of $0.000000000082 registered a year ago, on September 01, 2020.