Shiba Inu (SHIB) tokens have experienced a significant surge in burn rate during the last 24 hours.

As per data provided by Shibburn.com, a total of 16,444,334 (16.4M) SHIB tokens have been sent to dead wallet with the help of five transactions by the Shiba Inu Community during the last 24 hours, showing the burn rate increase whopping 342.71% compared to the previous day, i.e., Wednesday, when the community was able to remove only 6,341,324 (6.3M) Shiba Inu tokens from circulation forever with six transactions.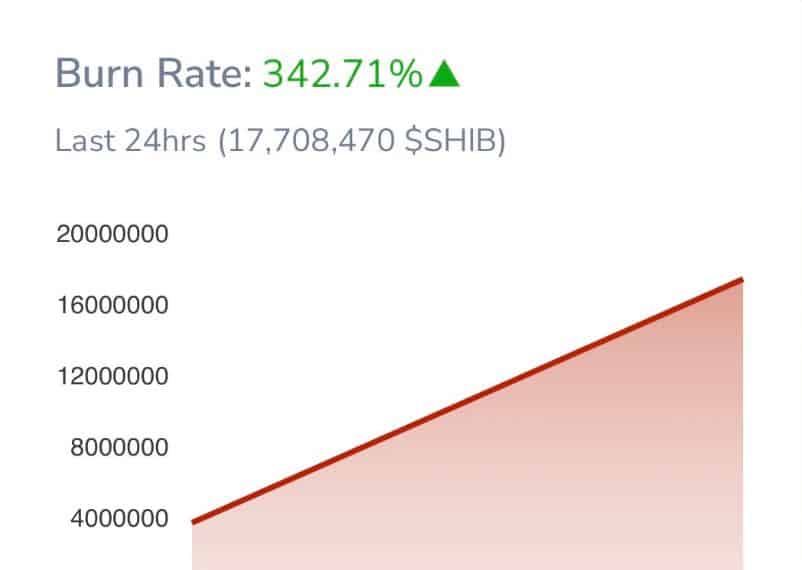 Since the start of the new week, In five days, a total of 83,680,926 (83M) Shiba Inu tokens were burned with 46 transactions.
Looking into details, a total of 410,303,792,858,149 SHIB tokens have been burned from the initial supply of 1 Quadrillion tokens, whereas 549,402,214,496,741 SHIB tokens are currently in circulation and 40,293,992,645,108 are staked by holders on ShibaSwap.
However, the Shiba Community is busy burning Shiba Inu tokens, but it hasn't had any significant impact on the price of SHIB yet. At the time of writing, Shiba Inu is trading at the price of $0.00002267, showing almost no change for the day, hovering in a range of $0.00002201 to $0.000023. However, the 24-hours trading volume for the token plunges over 10% to $752,337,672.98 (752M) compared to the previous day's trading volume of $818,094,363.03 (818M).