- Advertisement -

Number of Ethereum on Non-Exchange Addresses Surge.

The number of Ethereum held on non-exchange addresses has surpassed the number of exchange addresses. Data from Santiment indicates that the gap between the two types of addresses has reached its widest in the history of the second-largest cryptocurrency. 
📈 As #Ethereum sits just above $3,200, the ratio between $ETH's top 10 non-exchange and top 10 exchange addresses has grown to its largest gap of all time. This climb continues pointing to a greater proportion being kept away from exchange sell-off risk. https://t.co/Bal76cJd2X pic.twitter.com/OvWJ7bMMs4

— Santiment (@santimentfeed) April 10, 2022
The data reveals that non-exchange addresses currently hold 3.93x more Ethereum than exchange addresses. This trend has been building up since October 2020, when the non-exchange address holdings surpassed that of exchange addresses for the first time in two years.
Investors are bullish on Ethereum despite the price decline.
There are few indicators of bullishness among investors, one of which is the amount of an asset held off exchanges. The more of an investment held off exchanges, the more it indicates that investors are bullish on the asset and they are not willing to sell it. This trend manifesting for Ethereum shows that investors are getting ready to hold their assets off exchanges for a long time.
Despite the recent price drop, which is market-wide but has affected Ethereum. The asset currently trades at $3,174 after dropping from a recent high of $3,525, but it has not deterred investors from holding the asset in anticipation of better days.
Apart from solid holding demand, data from the Kraken exchange also reveals that Ethereum monthly active users have increased by 22.5%. As a result, users increased from 7.2 million in January to 8.8 million. According to Kraken, the data shows increasing optimism in Ethereum after several months of the bearish signal.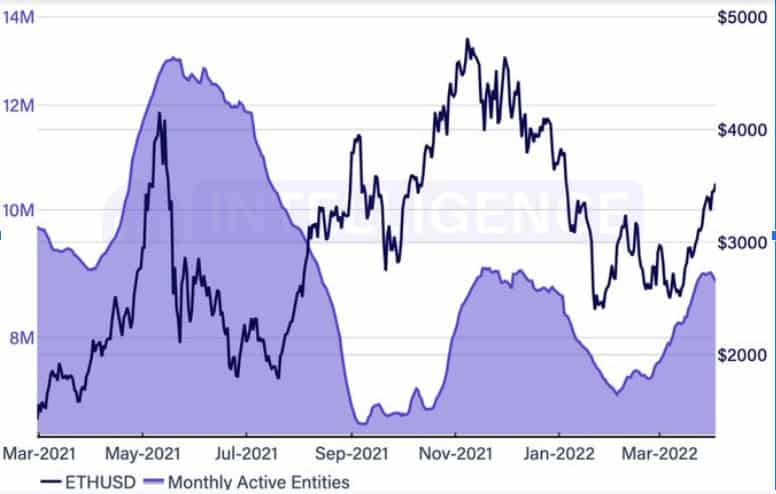 The Fear and Greed Index is neutral:
The Fear and Greed Index for Ethereum is currently at neutral. This further affirms the increasing confidence of investors as the asset is almost on the greed side, an indication of bullish sentiment.
Ethereum Fear and Greed Index is 41 ~ Neutral
Current price: $3,203https://t.co/uPEpI0NBgShttps://t.co/JhtwaM0NQ5 pic.twitter.com/MTkNArujJp

— Ethereum Fear and Greed Index 🇺🇦 (@EthereumFear) April 11, 2022
Coupled with the other data, this indicates that investors are seriously considering Ethereum as a viable long-term investment in hopes of a coming rally.