- Advertisement -

Data shows Massive Profit Taking Transactions occurred when Bitcoin fell yesterday.

Yesterday's crypto market correction saw Bitcoin drop to $39.4k, a level not seen in almost a month.
As a result, Bitcoin Traders were closing their positions and taking profit as the market dropped suddenly and fast.
According to Santiment, this is usually the case when the market is in a rally, so such liquidations during a correction show signs of capitulation.
📉 #Bitcoin's drop to $39.4k yesterday saw a massive amount of profit taking transactions. Interestingly, these spikes typically happen while prices rise, and this was likely trader capitulation right before many $BTC would be in negative profit territory. https://t.co/hB8fH2pMYb pic.twitter.com/DTdVxYTymv

— Santiment (@santimentfeed) April 12, 2022
Capitulation is when traders decide to sell an asset at a low price to avoid losing more profits or evading extra losses should the asset crash to lower levels. Santiment data shows that Bitcoin reached the largest ratio of transactions in profit vs. loss in 14 months.
Capitulation means traders expect worse.
The crash in Bitcoin price was due to an event known as a mid-halving event. This is the time halfway between one halving and the other and is usually characterized by a major correction. As Bitcoin failed to break and stay above the $50,000 resistance, the price correction kicked in, and historically, the mid-halving results in a sustained bear market. 
Traders taking profit indicates that the trend may have been confirmed, and Bitcoin price may be dropping to lower levels that may take some time to recover from. Though the price has bounced back above $40,000, the bearish trend may continue at least for short to medium term. 
Bitcoin hit its highest Supply Last Active 1+ Years Ago. 
An important metric for the price of Bitcoin is the Supply Last Active 1+ Years Ago. This is the percentage supply of Bitcoin that was last moved at least a year ago. Historically, the higher the number, the higher the chance that the price of Bitcoin will skyrocket.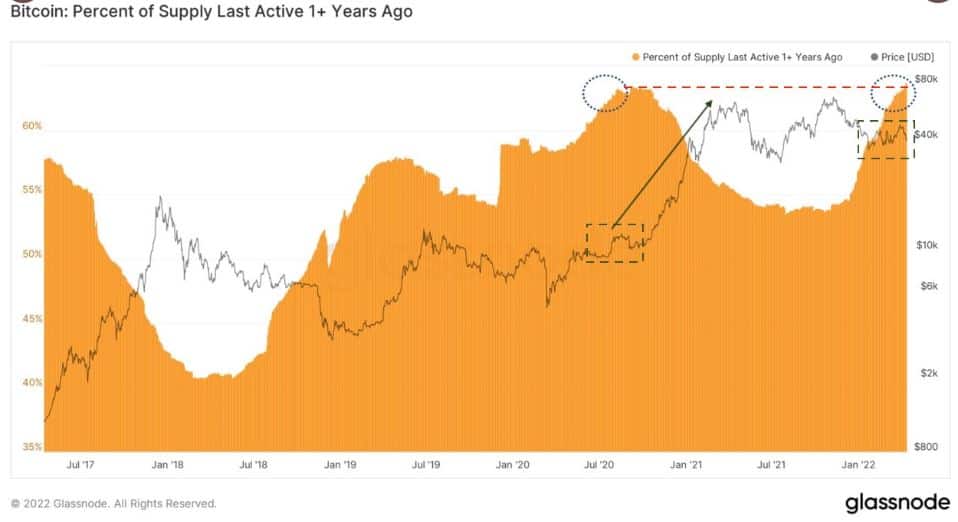 Right now, the percentage is at 63%, the highest in the history of Bitcoin. It indicates a bullish tendency for Bitcoin, as the last time this happened, Bitcoin was at $11,000 and preparing to go parabolic in Q4 2020. Although the current trend is bearish, the Supply Last Active 1+ Years Ago could be a sign of hope that Bitcoin is preparing for a big move when the bearish trend eventually ends.