- Advertisement -

Is there still hope for ADA holders?

In recent times, Cardano (ADA) has not been moving in the direction many of its investors want. Investors have watched as the token's value plunged massively, trading below $1 for most of the year. 
ADA, which peaked at an all-time high (ATH) of $3.09 last year, is down 68.5%, with the cryptocurrency struggling to climb $1. 
The underperformance of the cryptocurrency has resulted in massive losses for investors, with many enthusiasts left with no choice but to hold the coin hoping that its price will surge, as the project slowly becomes the perfect network for developers. 
More Holders in Loss
According to data on crypto analytic platform IntoTheBlock, 82% of addresses holding the cryptocurrency are at a loss of all the holders of ADA. Meanwhile, only a week ago, the percentage of addresses holding ADA in the loss was 67%.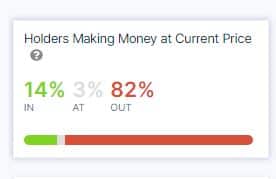 Following the crypto market crash, the cryptocurrency's price, which was nearly $1.1, slumped to a low of $0.92, thus putting more ADA holders at loss. 
As the market seems to have stabilized, the cryptocurrency's value has soared from $0.92 to $0.97, but the percentage of addresses holding ADA in loss is still increasing, currently at 82%. 
At the moment, only 14% of ADA addresses are in profit and this is mainly traders that bought the asset class last month when its price dipped below $0.80 a mid-last month. More information on IntoTheBlock data for ADA shows that only 3% of holders are in profit. 
ADA Holders Show Faith
It is worth noting that a majority of ADA holders, representing 77%, have been holding the cryptocurrency for between 1 and 12 months, while 12% of total addresses have been holding for over a year. Similarly, another 12% holding the cryptocurrency have held for less than a month. 
The majority of Cardano holders seem confident that the price will still surge regardless of the current performance of the coin. 
Investors are encouraged that the Cardano network will soon lure more decentralized applications (dApp) into launching on the blockchain once the Vasil hard fork goes live by June 2022. 
With more dApps on Cardano, the utility of ADA will expand, giving a massive boost to the cryptocurrency. 
At the time of writing this line, ADA is currently changing hands at $0.968, up 1.1% in the last 24 hours.