- Advertisement -

The falling Bitcoin hash price may force weaker miners to unplug.

Weak Bitcoin (BTC) miners are staring at an uncertain future. That's according to Dylan LeClair, the senior analyst at UTXOmgmt. 
Senior Analyst Mr. LeClair suggested that the miners had to contend with dropping hash prices in a Twitter post. That's happening at a time when the BTC hash rate is increasing following the consolidation of its prices.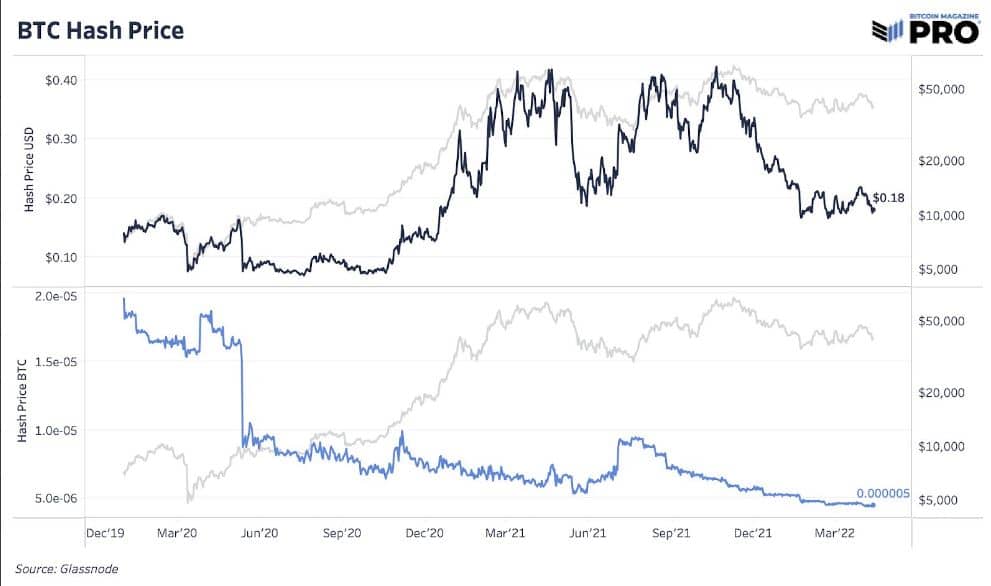 Image source: Twitter
The hash price is the ratio of the miner's income over the hashing rate. Higher hashing prices denote increased profitability for the miners. That, in turn, incentivizes them to continue mining. 
What Next for Weak Miners?
LeClair holds that the situation may cause weak miners to unplug. Alternatively, they may have to migrate to more efficient energy options. Migration would be a last-ditch effort to bring mining costs to profitable levels.
Again LeClair avers that the BTC hash rate is at its highest now. He attributes this rise to the market correcting itself post the Chinese crypto crackdown. 
That crackdown saw the BTC hash rate drop significantly as Chinese concerns switched off their operations. But many are coming back to life after setting up in crypto-friendly regions. Their re-entry into the mining space has seen the fortunes of small players in particular dwindle.
Crypto-Twitter's Reaction
Leclair's comments drew swift reactions from crypto Twitter. A Twitter user Hodlpants isn't enthused by the development. He holds that that's a trend BTC lovers wouldn't want to see in the long term as it disincentivizes miners from securing the network.
On the other hand, another user Evo sees it as a positive development. He argued that the weaker miners would seek renewable energy sources. The BTC industry is fighting perceptions that it is environmentally unfriendly. Thus such a move would be one way of endearing itself to the crypto's opposers.
One other user, N8DOGE, fears BTC's decentralization stance. He opines that if the miners fail to find alternative cheap energy sources, they'll remain unplugged. That would then lead to a higher degree of miner centralization.
BTC's Hash Price Has Been Declining
According to Glassnode's data, BTC mining price has been declining consistently. That's because the king crypto's mining difficulty has also progressively increased.
Increases in the hashing rate favor bigger miners over smaller ones. That's because they can deploy faster and better-equipped mining rigs. Thus they can maintain their level of profitability. The reverse is true for small-scale miners.