- Advertisement -

Litecoin Records Highest Number of Daily Transactions in 11 Months as Whales Accumulate.

The Litecoin network has seen a massive flow of transactions near its price bottom at the beginning of the week; Santiment data shows LTC recorded the highest number of daily transactions in 11 months, with 5,508 transactions worth over $100,000.
🐳 #Litecoin's top key stakeholders have been quite busy over the past week with massive transactions occurring near its price bottom at the beginning of the week. The 5,508 $LTC transactions valued at $100k+ was the highest total in 11 months. https://t.co/JF3T0N8mdE pic.twitter.com/lqcbiohFeV

— Santiment (@santimentfeed) April 15, 2022
The network has seen an increasing number of transactions recently. Recent data shows that the network is close to overtaking Bitcoin by the number of transactions, a feat that its supporters believe is on the horizon. The number of transactions is also approaching an all-time high as whales become active on the network.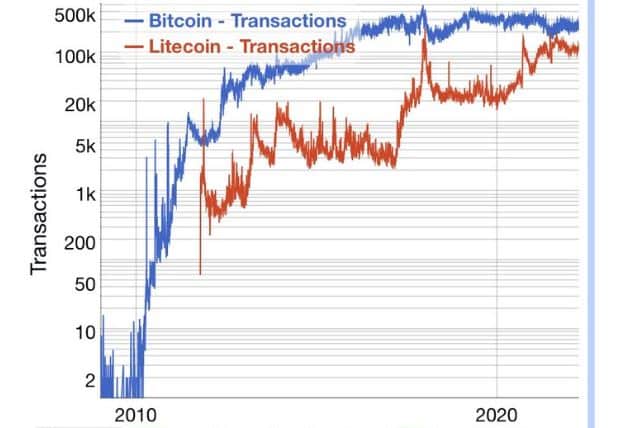 Whale accumulation could be going on.
The number of transactions on Litecoin has gone up in spite of the price at low levels, indicating investor confidence despite the current sideways market movements. According to Santiment, this could mean that whales are accumulating the asset quietly as they usually do when the price of an asset is down. This accumulation pattern has also been seen in other assets such as Bitcoin recently.
The #Litecoin 🐋🐋's be accumulating! 👀🚀🔥 pic.twitter.com/keeUWX8Z0e

— ŦɧĚ ČŖƴƤŦŐ ฿uŁŁ (@The_Crypto_Bu11) April 8, 2022
The data above shows Litecoin whales buying the asset and accumulating, as Santiment says. Ultimately, the accumulation is a good sign and is bullish for LTC as accumulation by whales can help to make the asset more valuable eventually. This has been the pattern even for Bitcoin, so Litecoin investors are highly anticipating better days to come following this phase, just as is the expectation for Bitcoin.
Litecoin hash rate approaches all-time high.
Another meaningful change that has been noticed on the Litecoin network is the hash rate. This is the computational power available on the network for processing transactions. It also shows that many more miners are processing transactions and securing the network. The hash rate is approaching a new all-time high when the number of transactions is going up.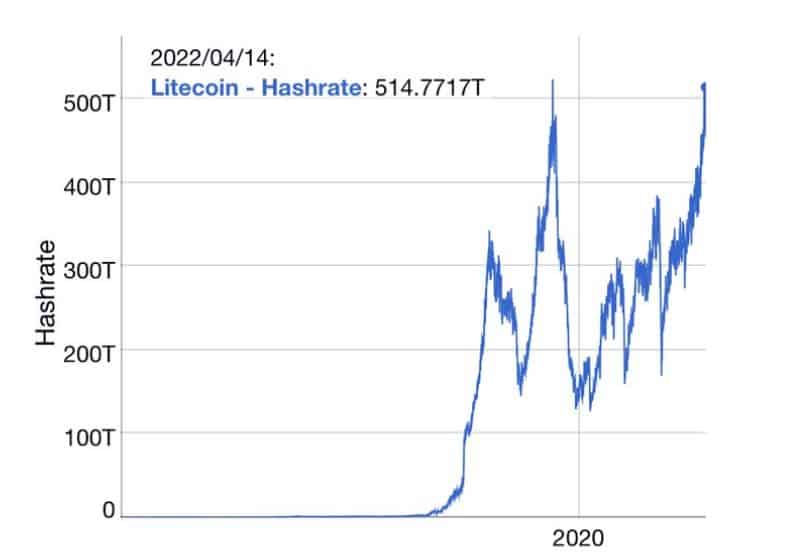 Usually, when the hash rate of a PoW network goes up, it means the network is very healthy and secure. Interestingly, it is also a precursor of an upward price movement as the asset usually rallies shortly after a spike in hash rate. As the whales continue to accumulate, they are looking forward to a rally that the hash rate suggests may be around the corner.