Holders Count for Shiba Inu Reaches Record 2-Weeks High Following Robinhood Listing.
Following Shiba Inu (SHIB) listing on Robinhood, the holders' count for the most popular canine-themed cryptocurrency reached a record 2-weeks high.
Since Robinhood listing, the holders count for Shiba Inu started to recover and reached a record 2-weeks high of 1,135,194 (1.135M), as per data provided by Etherscan.io.
Listing on Robinhood appears to be a major milestone for Shiba Inu Community and the ecosystem. The community strived hard to reach there.
About 9 months ago, Tristan Luke, one of the Shiba Inu fans and investors living in the United States, started a petition for the Robinhood listing of SHIB on change.org. 559,725 signed the petition proving colossal interest and enthusiasm for Shiba Inu.
Finally, the voice of one of the strong communities in the crypto space was heard by Robinhood, one of the leading American-based exchanges with 22 million registered users. On 12th April 2022, Robinhood listed Shiba Inu.
Before Robinhood Listing:
At the start of April, holders seem to lose interest in the SHIB token. As a result, the famous dog-themed cryptocurrency experiences a drop in its holder counts. From March 21st to April 10th, 43,634 wallets dumped their Shiba Inu tokens, with the biggest drop of 32,832 holders in a single day, according to Coinmarketcap.
After Robinhood Listing:
The graph of holders counts started to do better soon after SHIB listing on Robinhood. The number of holders appears to jump from 1,128,445 (1.12M) to a 2-weeks high figure of 1,135,194 (1.13M) just within the period of the last nine days.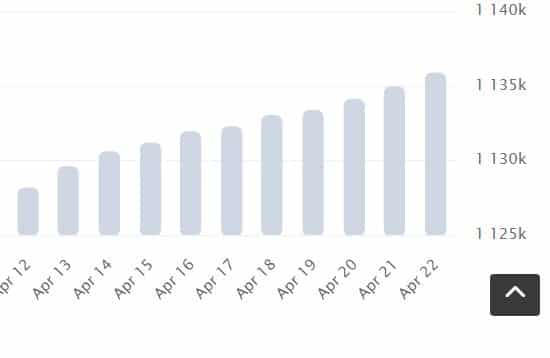 Robinhood Listing Increases Appetite for SHIB among Top ETH Whales:
Besides this, the top ETH whale wallets also show an increased appetite for the SHIB. Since the Robinhood listing, over 2.28 trillion SHIB, worth $58,751,032 ($58.75M), were accumulated by top ETH whales through 14 separate transactions.
As a result of recent developments, SHIB also become the biggest position (dollar value) held by top ETH whales, as per data provided by WhaleStats. On average, the top 5000 ETH Wallets are holding $1,465,090,454 ($1.46B) worth of the popular dog-themed cryptocurrency.
Impact on SHIB Price:
Soon after the Robinhood announcement, the price of the Shiba Inu token skyrockets 35% to 0.00003, its highest level in almost two months, before paring some gains.
At the time of writing, Shiba Inu's price is trading at $0.00002421, down -3.93% over the last day, with a 24-hour trading volume of $502,308,833.67 ($502.30M).
Follow Us on Twitter and Facebook.
Disclaimer: This content is informational and should not be considered financial advice. The views expressed in this article may include the author's personal opinions and do not reflect The Crypto Basic's opinion. Readers are encouraged to do thorough research before making any investment decisions. The Crypto Basic is not responsible for any financial losses.
-Advertisement-