- Advertisement -

Billions of Shiba Inu Keeps on Burning.
24 Hour Burn:
Over 243.06 million SHIB has been sent to the dead wallet by Shiba Inu Community using Burn Portal in the last 24 hours.
Data shared by the Shibburn Twitter account shows that in the past 24 hours, the SHIB community has burned 243,069,460 (243.06M) SHIB tokens, removing them from circulation. That amount of crypto was shifted in 54 transactions.
In the past 24 hours, there have been a total of 243,069,460 $SHIB tokens burned and 54 transactions. Visit https://t.co/t0eRMnhnPL to view the overall total of #SHIB tokens burned, circulating supply, and more. #shibarmy

— Shibburn (@shibburn) May 9, 2022
The burn rate declined by -37.21% over the last day when 311,860,295 (311.86M) SHIB tokens were burned through 46 separate transactions.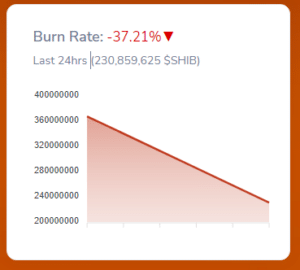 Weekly Burn:
According to our calculations, over 3.96 Billion tokens have been taken out of circulation forever in the last seven days through 367 separate transactions.
ShibaDoge (SHIBDOGE) is the top burner of the week. The meme-inspired token has sent a whopping 1 billion Shiba Inu tokens to the dead wallets, worth over $20,000 in a single significant transaction on Thursday.
🔥 OFFICIALLY DONE 🔥
1,000,000,000 #Shiba $SHIB burnt by $BURN and @RealShibaDoge 🔥

Our community now owns 4% of the entire #ShibaInu burn pool!

Confirmation hash: https://t.co/vjDs2lA1Vr pic.twitter.com/JZuxDM3dud

— Shiba Doge (@RealShibaDoge) May 5, 2022
SHIB Burn Portal:
SHIB Burn Portal went live on April 23, 2022 (16 days ago). The Portal has increased the burn rate dramatically, as the community is taking part in it enthusiastically while burning millions of coins on an hourly basis. The community in return, receives rewards in the form of Ryoshi Vision (RYOSHI), a new official partner token of the SHIB ecosystem.
Since the launch of SHIB Burn Portal, a whopping total of 26,357,419,583 (26.35B) SHIB tokens worth $458,619 have been burned through hundreds of separate transactions.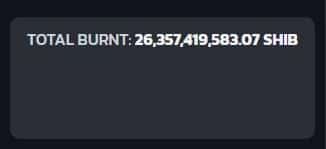 Despite aggressive burn in play, the Shiba Inu (SHIB) price is under intense selling pressure. Shiba Inu registered its all-time high price (ATH) on October 28, 2021 (6 months ago). Since then, the dog-themed cryptocurrency has lost its -80.26% of value.
At the time of writing, the Shiba Inu price is trading at $0.00001758, down -7.30% over the last day, with a 24-hour trading volume of $552,903,446 ($552.90M).