The financial experts make favorable XRP predictions despite the underperformance of the crypto market.  
The general cryptocurrency market has been on a downtrend since last week after the Federal Reserve confirmed that it would be increasing interest rates in order to mitigate rising inflation.
Cryptocurrencies like Bitcoin (BTC), Ethereum (ETH), and Ripple (XRP), among others, have all recorded significant losses of over 30% since the Feds made the announcement.
Finders' Experts Expect XRP Surge
The unfortunate circumstances have not hindered financial analysts from making favorable predictions for the nascent asset class.
This time, a group of 36 fintech experts predicted in a recent Finders' report published on May 4th that regardless of the current market crash, Ripple's native cryptocurrency will surge to a high of $2.55 by the end of the year. For the financial experts who made their predictions for the XRP token known, the major influence that will determine the price of the cryptocurrency is the outcome of the lawsuit between Ripple and the Securities and Exchange Commission (SEC).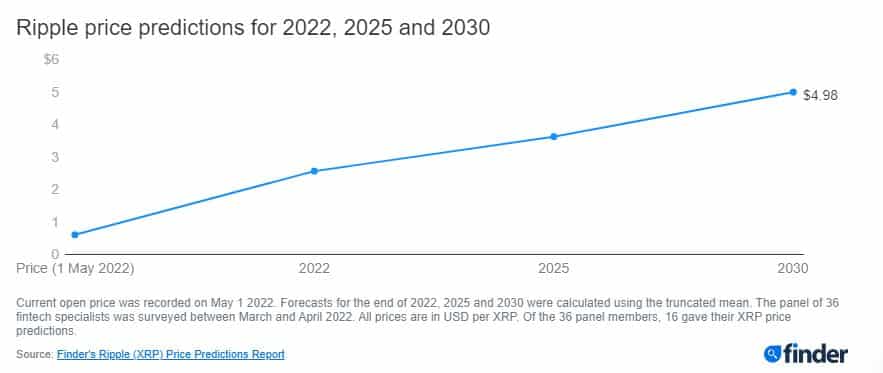 According to the financial experts, a win for Ripple could see the coin soar as high as $2.55, while in the event of a loss, the experts believe that XRP could plummet to a low of $0.50.
Unfortunately, given the amendment to the recently published joint schedule order by Judge Analisa Torres, it is not certain that the lawsuit will end this year.
Aside from this year's prediction, the group of fintech analysts also gave their prediction for XRP by 2025 and 2030. Notably, XRP will hit $3.61 by the end of 2025 and in 2030, the sixth-largest cryptocurrency will surge as high as $4.98.
Commenting on what would happen to XRP if Ripple wins the lawsuit, Carol Alexander, Professor of finance at the University of Sussex noted that the blockchain project could gradually replace SWIFT.
"It is not like any other crypto. If it wins vs. SEC, it really will start to replace SWIFT," Alexander said.
As widely reported, the ongoing lawsuit will not only determine the value of XRP, it will also decide the fate of the entire United States cryptocurrency industry.
Brad Garlinghouse, the CEO and founder of Ripple, noted that the blockchain company will not be overwhelmed if it loses the lawsuit because it is already operating as if it has lost and that has not hampered the company's growth.
Meanwhile, XRP is currently changing hands around $0.44 across major exchanges, down 14.5% in the last 24 hours, according to data on Coingecko.
Follow Us on Twitter and Facebook.
Disclaimer: This content is informational and should not be considered financial advice. The views expressed in this article may include the author's personal opinions and do not reflect The Crypto Basic's opinion. Readers are encouraged to do thorough research before making any investment decisions. The Crypto Basic is not responsible for any financial losses.
-Advertisement-