Blizz Finance Depleted After LUNA Feeds Pause, Fingers Pointed At Chainlink.
LUNA is yet again in the headlines as a loss-causing coin. This time around, the incident occurred on Chainlink, a blockchain that facilitates hybrid smart contracts to power decentralized applications. When LUNA's price fell and reached the minimum value allowed for the LUNA/USD on Chainlink, Chainlink paused the price updates for LUNA.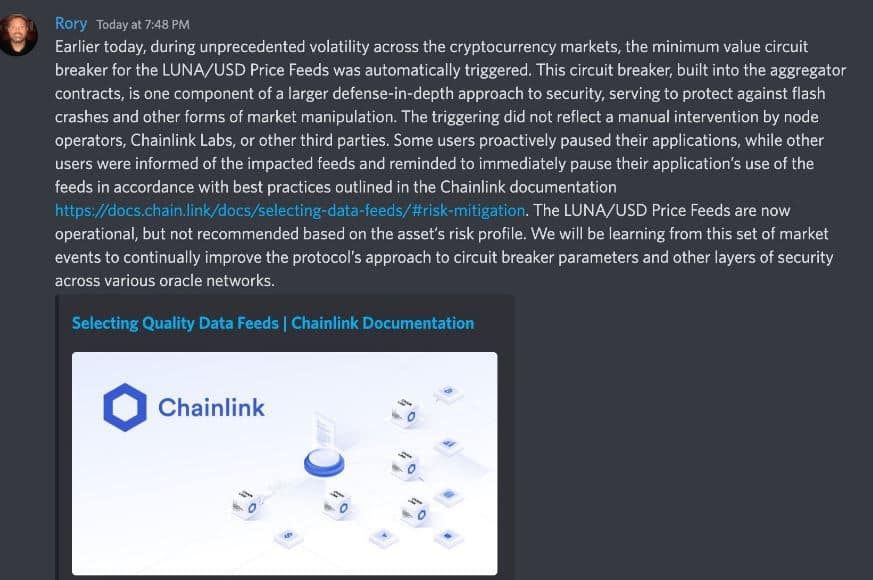 Image source: Wu Blockchain
How Hackers Drained Funds
The pausing of price updates for LUNA meant that the entities operating on the network were left unaware of what was happening to the LUNA price. This allowed attackers to deposit millions of LUNA at the previous higher price of $0.10 as assigned by the Chainlink Oracle that wasn't updated at the time. They then went on to borrow the value of their entire collateral.
Chainlink To Blame?
Fingers are now pointing at Chainlink for what some believe was a laxity that allowed bad actors to deposit low-value LUNA and still borrow their entire collateral that should have been much lower in value given the downward change in LUNA's price at the time. Blizz Finance is one of the many entities that lost money during the incident when the attackers borrowed more than they deposited. Blizz Finance is a liquidity protocol running on Avalanche.
We have built on the AVAX ecosystem in good faith with the expectation that @chainlink oracles would behave as expected. Sorry to those affected.

— Blizz Finance (@BlizzFinance) May 13, 2022
Blizz Finance took to twitter to express its dissatisfaction at how Chainlink handled LUNA's market crash. Chainlink was built to provide constant price updates to decentralized services via its Oracle functionality, but in this case, it failed to issue updates. This laxity is now seen as the major cause of the losses incurred by Blizz Finance and other entities.
Chainlink pausing the LUNA oracle allowed several attackers to deposit millions of LUNA which is still worth $0.10 according to the Chainlink oracle to borrow all the collateral.

The protocol has been drained before we could pause due to our timelock.

— Blizz Finance (@BlizzFinance) May 13, 2022
Blizz Finance says that a post-mortem of the incident to follow.
Terra LUNA has been a pain for many investors ever since its price started a sharp downward move. The coin is currently trading at a disappointing $0.000038 and has gone further down to position 232 in the charts. Just a few weeks ago, LUNA was among the top 20 cryptos in the market and trading at over $115.