- Advertisement -

Institutional Investors Could Be Accumulating BTC Through Market Makers after Strong Selling.

Market makers sent a total of 84,000 BTC from Gemini to Binance between May 7 and 10. On Coinbase, the BTC-USD spot trading volume reached a year high as Coinbase Premium reached a 3-year low of -3%.
A Crypto Quant CEO, Ki Young Ju shared details on Twitter. According to the analyst, it's possible that institutional investors are using market makers to accumulate Bitcoin.
Q. Are institutional investors selling #Bitcoin?

A. They're buying $BTC via market makers right now.

Here's what happened last week 👇

— Ki Young Ju 주기영 (@ki_young_ju) May 16, 2022
Bitcoin Selling
From May 7th to May 10th BTC Whales sent an all-time high of 84K BTC from Gemini To Binance.

Image source: Twitter
Apparently, Coinbase has had the largest inflow of BTC from Binance, indicating high selling pressure. The 84k BTC mentioned is worth around $2.5 billion. It is not yet clear whether the market makers have finished selling the stash. Either way, it's certainly clear that institutional investors could be behind the selling. Ki Young Ju says:
"2022-05-08 (Mon) ~ 2022-05-12 (Thu) The majority of selling pressure came from Coinbase since they had the largest BTC inflows from Binance. – BTC-USD spot trading volume on Coinbase hit a year-high. – Coinbase Premium hit the three-year low of -3%."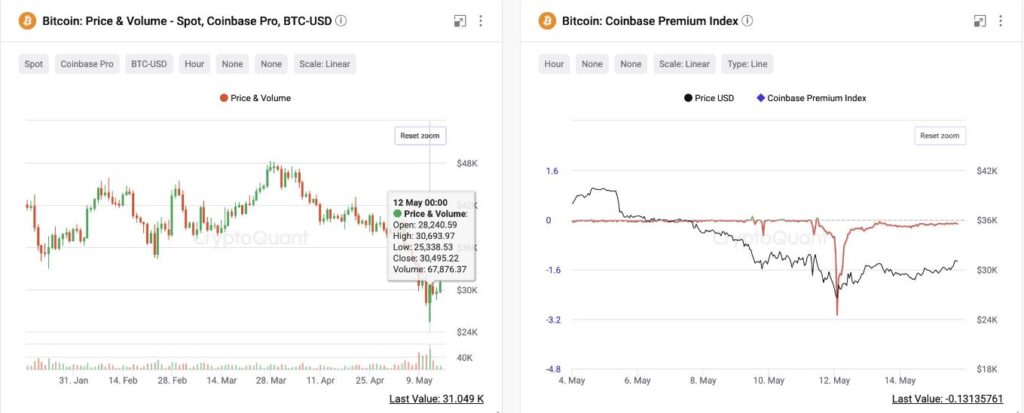 Image Source: Twitter
It's worth noting that institutional investors with full flow entered the crypto market a year before. In fact, crypto-based investment funds like Grayscale, MicroStrategy, and Fidelity have come up to serve the growing customer base.
LFG BTC Sell Was Unexpected
Going on, the analyst intimated that intuitional investors may have had their bid walls set at $30k. However, they had to re-adjust this wall down to the $25k mark after the sudden BTC sales done by the Luna Foundation Guard. At the onset of Luna's price crash, the foundation had to sell off its Bitcoin stash to prop up Luna's price. Its sister stablecoin, UST, was also hit hard and had to de-peg from the USD.
"Market maker(s), including the ones hired by LFG, already sent 84k BTC(~$2.5B) to multiple exchanges last week. Not sure they finished selling, but it is highly likely for the accumulation from institutions since Coinbase digested the majority of selling pressure.
I think institutions tried to stack $BTC from $30k but had to rebuild the bid walls at $25k due to the unexpected LFG selling."
Bitcoin Buying
An increased buying drive by institutional investors may point to a possible price upswing in the near future. It might also cause a short-term bull run due to FOMO spreading in the market.
Crypto Quant CEO further says that Bitfinex long reached an all-time high yesterday. 50K Bitcoin entered Bitfines in two weeks and out of these 50K BTC, 39K were used to open positions.
This shows that BTC Whales are more engaging in Buying BTC at the dip.
$BTC futures traders now are mostly whales.

50k BTC flowed into @bitfinex for the last two weeks and 39k BTC seems to be used to open long positions. Bitfinex longs reached an all-time high yesterday.

Live Chart 👇https://t.co/N7kJnbvBuU https://t.co/bBOZmqLOs1 pic.twitter.com/31DRjqoGpk

— Ki Young Ju 주기영 (@ki_young_ju) May 16, 2022
Is $20K A Possibility?
Young Ju further explains that the only possibility of BTC going to $20K is if Finex whale who has at least $1.17B worth of Bitcoins gets liquidated, But the CEO is pretty sure that's not going to happen.
Some say the price is going to crash below $20k.

Yeah, if Finex whale who has at least $1.17B worth of #Bitcoins get liquidated, it can go below $20k.

The only plausible scenario is market manipulation by Wall Street institutions, but I'm pretty sure it's not going to happen. pic.twitter.com/Hpvpqqoz2t

— Ki Young Ju 주기영 (@ki_young_ju) May 16, 2022
Currently, Bitcoin is valued at around $29.5k and recording a loss of 12% over the last 7 days. However, the coin's price hasn't changed much over the last 24 hours.