Major Milestone Achieved, SHIB Burn Portal Officially burned 50 Billion Shiba Inu Tokens.

Finally, the Dream of 50 Billion Shiba Inu Came True. SHIB Burn Portal achieves a major milestone of burning 50 billion SHIB tokens in less than a month.
Shiba Inu Community is cheering the ShibaBurn rewards as they have taken out over 50 Billion SHIB, worth $579,500 (as of current price) from circulation forever, through thousand of separate transactions in the past 4 weeks.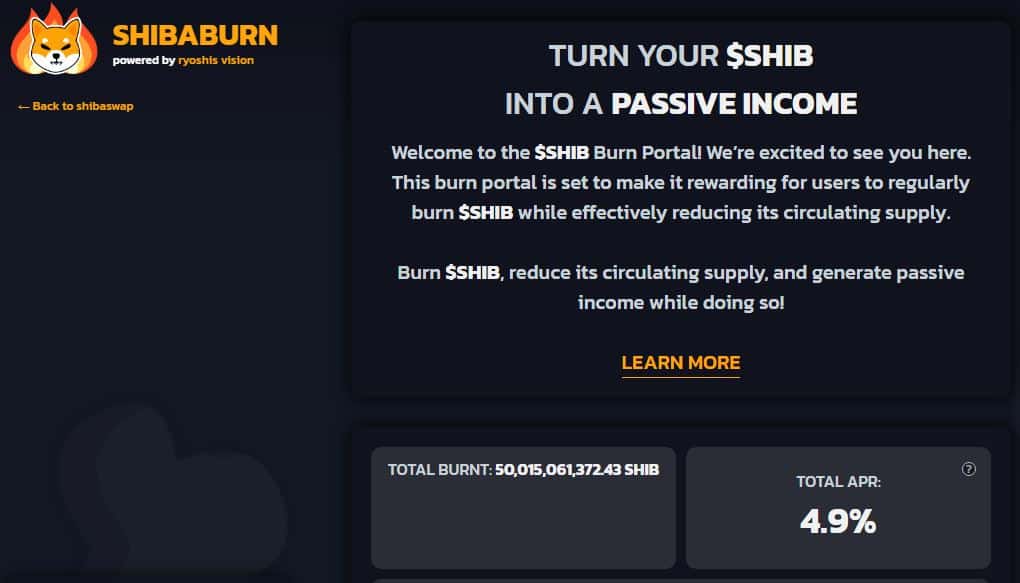 Distribution of ShibaBurn Rewards Boost SHIB Burn Rate:
The first ShibaBurn rewards were officially distributed among the SHIB Burners on May 17th (Tuesday). The announcement cheered the Shiba Inu Community and bolstered their confidence in the burn project.
Therefore, following the distribution of ShibaBurn rewards, the SHIB burn rate increased dramatically in the last 72 hours as a whopping total of 18,348,470,507 (18.34B) Shiba Inu tokens have been burned through 286 separate transactions.
Biggest SHIB Burn Since Launch of SHIB Burn Portal:
On May 19th (Thursday), one mysterious wallet set a new record by burning a whopping 10 billion SHIB, worth $124,300 in a single transaction. This not only marks the largest community-led burn in history so far, but the biggest one in a single transaction, and also the biggest one since the Burn Portal launch. This massive burn also helped SHIB Burn Portal to achieve its first-ever major milestone of burning 50 billion tokens in no more than 30 days.
The aforementioned stats clearly depict that the developers behind Shiba Inu's ecosystem have introduced a game-changing move for SHIB in the form of the SHIB Burn Portal.
SHIB x RYOSHI Vision:
SHIB Burn Portal is developed in collaboration with Ryoshi Vision. The Portal was officially brought into life on April 23, 2022 (a month ago). To encourage SHIB Burns, the team behind Shiba Inu strategically incorporated the "Reward Mechanism" for SHIB holders. ShibaBurn Reward Mechanism works like whoever will burn SHIB through using SHIB Burn Portal will receive a Ryoshi Vision token in exchange (as a reward).