- Advertisement -

Cardano Whales pushed ADA to become the sixth-largest crypto again after being overtaken by Ripple.
For most of yesterday, Cardano (ADA) traded below $0.55 as the global cryptocurrency market winter continues. The low price of ADA also resulted in a plunge in its market capitalization from above $20 billion to around $18.3 billion yesterday.
Following the massive decline in ADA's market valuation, the cryptocurrency was quickly overthrown by Ripple (XRP) to become the sixth-largest cryptocurrency by market cap, while Cardano slumped to the seventh position.
Although there was not much difference in value between the two cryptocurrencies, it was not clear how ADA intended to reclaim the position of the sixth-largest digital currency.
Cardano Whales Came to the Rescue 
Interestingly, when it seemed ADA would have to go back to the seventh position it has seated for the past few weeks, Cardano whales came to the rescue as they embarked on a massive accumulation of the cryptocurrency.
According to data shared by Santiment, an on-chain cryptocurrency data provider, nearly 160 whale purchases worth over $100,000 each were recorded in the second half of yesterday. The transactions occurred in just six hours on Friday.
Santiment writes: "ADA Spiked to about 160 $100K plus transactions over the span of 6 hours on Friday."
Following the massive whale accumulation of the Cardano, the price of the cryptocurrency surged to above $0.57, while its market capitalization also increased to above $19 billion. The event also helped Cardano overthrow Ripple again to become the sixth-largest cryptocurrency by market cap.
Will ADA Soar Amid Whale Accumulation?
Meanwhile, Santiment noted that the last time whales embarked on a widespread ADA accumulation when the coin's price was falling, ADA surged more than 28% within 18 hours.
"Cardano got a small bounce in the second half of Friday trading after large whale transaction counts began to appear on the $ADA network. An extreme example of the last time whales accumulated on a downswing, prices jumped +28% in the span of 18 hours," Santiment reports.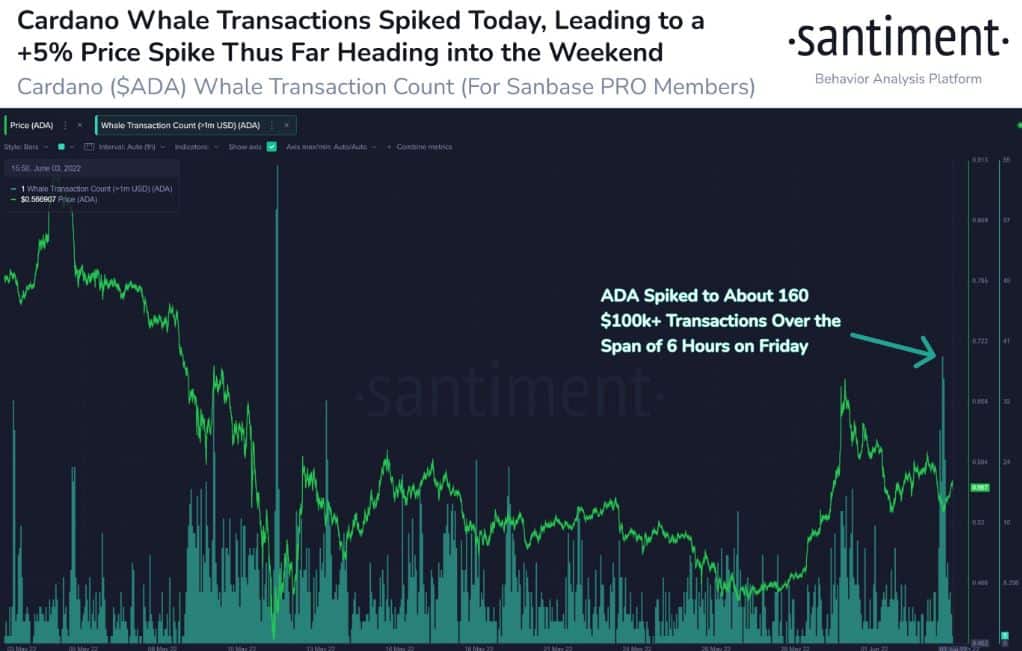 Image source: Santiment
However, it does not seem like it would be the case this time, as ADA has retraced a bit from $0.57 to $0.56. ADA is down 4.2% in the last 24 hours like other cryptocurrencies.