Users can now track the price of Bone ShibaSwap (BONE), the governance token of the Shiba Inu ecosystem on Binance.
Shiba Inu Community is expecting a potential listing of BONE for trading purposes on Binance afterward.
Binance, the world's biggest Bitcoin exchange and altcoin crypto exchange in the world by trading volume has recently enabled price tracking for Bone ShibaSwap, the governance token of the Shiba Inu ecosystem.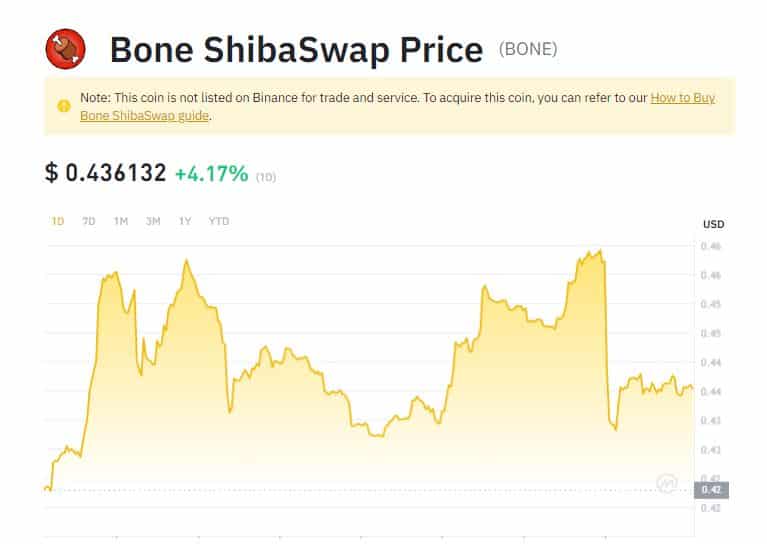 Following this, Shiba Inu supporters begin to expect a potential listing of Bone ShibaSwap on the world's leading crypto exchange in terms of the trading volume for trading purposes.
Binance has shown its love towards the most popular canine-themed token many times before. This month, Binance Learn and Earn has launched a mega promotion to award new users with 45K SHIB tokens with 100% APY.
BONE started getting a lot of traction as the news about the potential launch of Shibarium is under discussion all across social media platforms.
At the start of the month of June, Seychelles-based BTCEX Exchange officially announced the listing of Bone ShibaSwap (BONE).
BONE will play an important role in Shibarium. The token will reportedly be used as the native "Gas Token" on SHIB Layer 2 solution, which will provide the necessary functionality to process/execute smart contracts and transactions. BONE is currently acting as the governance token of ShibaSwap, allowing the SHIB Army to vote on upcoming proposals. The more BONE the user holds, the more weight their vote carries in these future endeavors.