There has been rapid growth in the number of smart contracts deployed on the Cardano network. 
Fresh data from Cardano Insights suggests that the number of smart contracts recently hit 2,900. The development means that the total number of smart contracts is only 100 away from reaching 3,000.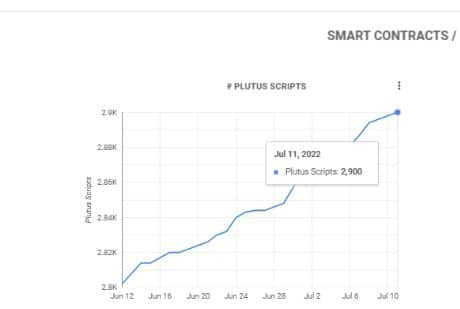 According to Cardano Insight, the graph represents the Plutus-based smart contracts that currently operate on the network. 
Cardano Smart Contracts Grow Steadily
Recall that Input Output Global (IOG), the company responsible for conducting research and development for Cardano, introduced smart contract functionality to the network in September 2021 via the Alonzo Hard Fork. 
Since the feature was added, the number of smart contracts has grown steadily, with the total number approaching 3,000. 
The data suggests that the number of smart contracts deployed on Cardano has been growing at a steady pace in the past month. Over the past 30 days, only about 100 smart contracts were added to the total amount. 
Vasil Hard Fork to Enhance Cardano Smart Contract 
Meanwhile, Cardano's smart contract functionality is expected to receive the necessary enhancements in the coming weeks after the long-awaited Vasil Hard Fork goes live on mainnet. 
The upgrade, which is scheduled to launch later this month, is tipped to roll out significant enhancements to several aspects of Cardano. 
As reported by the IOG, Cardano's smart contract development is among the top priorities the Vasil upgrade will focus on. 
Cardano Founder Knocks Troll Criticizing Vasil
While the IOG has teased the community that Vasil will enhance Cardano's smart contract functionality, an internet troll fired a shot at the upcoming upgrade, saying: 
"Most Cardano smart contracts are incompatible with the new update Vasil and will have to be re-written. Can't make this sh.t up." 
Interestingly, Charles Hoskinson, the CEO of IOG, was not in any mood to have anyone talk bad about his project, as he responded to the troll a few hours later. 
"The entire reason we built the HFC and Plutus versioning is to ensure this doesn't happen. It's incredible to see the FUD and stupidity from Twitter trolls, but that's life. After the HFC event, all the contracts will still function."