WingRiders DEX On Cardano Partners With AADA Lending Protocol To Enable Users To Swap Their Collateral To ADA.

With the partnership between WingRiders and AADA Finance, users can now swap their collateral to ADA if loan liquidation is triggered.
It's good news for the Cardano community as WingRiders is the largest exchange on Cardano with a $52M total value locked (TVL) leading other dexes.
WingRiders is a DEX built on the Cardano blockchain network. The DEX took to Twitter to announce the inking of a deal between it and AADA Finance, a lending protocol that runs on the same Cardano chain but is backed by NFTs. The new partnership allows users to swap their collateral to ADA when they trigger liquidation in the same transaction.  
📌Riders, our partnership, and integration of the DEX into @AadaFinance, enables users to swap their collateral to $ADA when they trigger loan liquidation in a single transaction💪🚀

Here is a simple guide on how it works👇👇👇#WingRidersDEX #swap #aada #DEX #collateral pic.twitter.com/NOpSq2VhA6

— WingRiders (@wingriderscom) July 26, 2022
How It Works
Besides sharing the good news, WingRiders extended the courtesy of posting a visual graphic to explain to users how the process works. On one end, there's the Rider (in this case, the WingRider customer); in the middle, there's the AADA Finance loan taken by the customer; and on the other end, there's the WingRider system.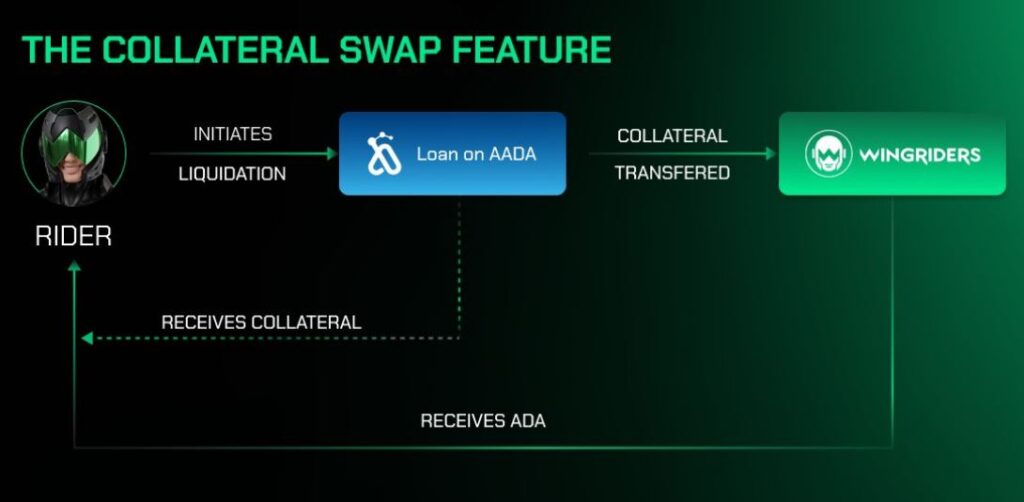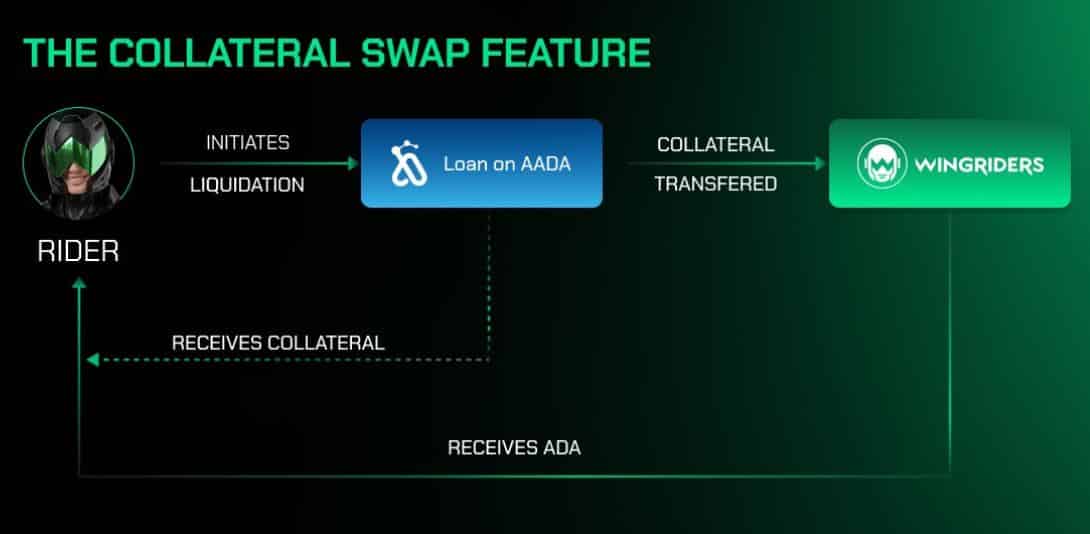 The process is rather simple. The Rider initiates a liquidation of their collateral, which is then transferred to WingRiders and the Rider receives ADA into their account. ADA is the native crypto coin used in the Cardano blockchain. This gives the Rider access to the "global" currency of the Cardano ecosystem and leeway to do other things with it. Users can stake ADA or use it to buy NFTs, among other uses.
The Effects
The deal between WingRiders and AADA Finance will ultimately boost and ease access to ADA by users, a development that will culminate in increased use cases for ADA. This will translate into higher adoption of the coin and a spike in demand. Increased demand could have a positive impact on the coin's market price. Cardano has been working hard to upgrade its blockchain network and introduce more use cases for ADA as it works to improve the network's speed, capacity, and scalability.