Less than two months after adding ADA to the Ledger Live app, Ledger has expanded its offering to include 100 Cardano ecosystem tokens. 
Easier access = Broader utility.#Cardano #Blockchain #Crypto https://t.co/bAIGi8yUrk

— Cardano Community (@Cardano) July 28, 2022
Leading cryptocurrency hardware wallet Ledger has expanded support to include more Cardano ecosystem tokens. The famous cryptocurrency hardware wallet maker noted in a recent blog post that its users can now manage 100 native Cardano ecosystem tokens via the Ledge Live app. 
Ledger clarified that it selected the 100 tokens without any form of bias. According to the announcement, the selection of the 100 Cardano ecosystem tokens was based mainly on the number of blockchain transactions completed within a specific period. 
"100 native Cardano tokens just made their way to your Ledger Live app. Starting today, you can seamlessly explore the Cardano ecosystem by managing the World Mobile Token, DANA, and ADAX, to name a few, while leveraging the security of your Ledger Nano," Ledger said in the announcement. 
Some of the tokens selected include ADAX, ADA Shiba Inu, MELD, Aada DAO Token, BlackDoge, Cardano Gold, Cardano Native Token, DogeADA, MEOW, Kidz Coin, etc.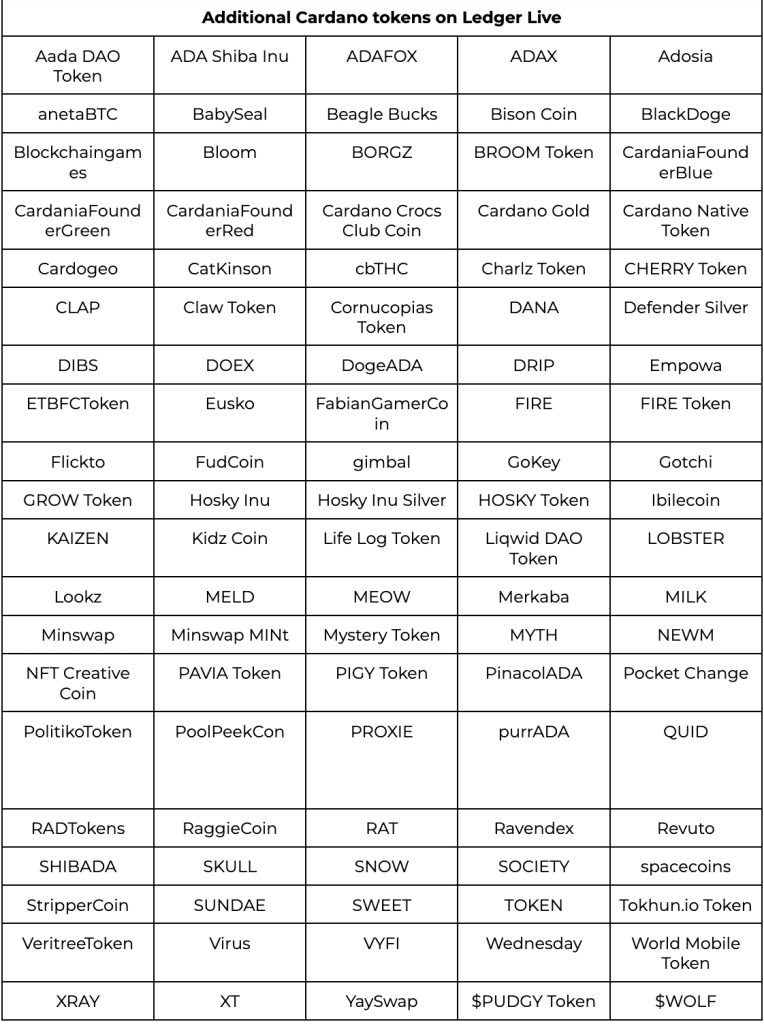 Ledger acknowledges that while numerous Cardano ecosystem tokens exist, it chose to support only 100 based on the number of blockchain transactions. 
Ledger's Continuous Support for Cardano
In recent months, Ledger has been supportive of the Cardano project. As TheCryptoBasic reported in April, the team behind the popular hardware wallet released a new update that supports Cardano's smart contract functionality. 
"Attention Cardano ADA users! v.4.0.0 of the Cardano app is now available for download in Ledger Live. The app is compatible with smart contracts. Cardano DeFi + Ledger = Onwards!" Ledger noted in the announcement. 
While Cardano enthusiasts were still celebrating the news, Ledger announced that it had added ADA to the Ledger Live app.  
Following the announcement, Cardano enthusiasts can now purchase, send, and receive ADA directly from their Ledger Live App. Before Ledger users can start exploring the feature, they will first create a Cardano account on Ledger Live.   
After ADA, Ledger expanded its support to include more Cardano ecosystem tokens. Although Ledger has selected 100 Cardano ecosystem tokens, there is a tendency that more Cardano-based tokens will be added to the list soon.