Terra founder Do Kwon remains defiant. 
Embattled Terraform Labs founder Do Kwon finally broke his Twitter silence, reiterating his belief that the crypto world needs decentralized money that is censorship resistant in a tweet earlier today.
"Decentralized networks need decentralized money – obvious today more than ever," Do Kwon tweeted.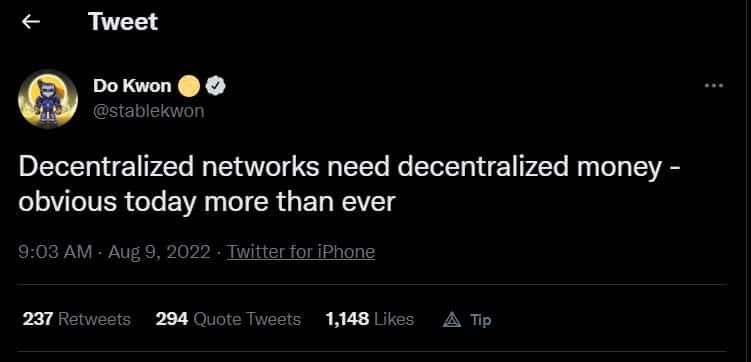 Unsurprisingly, several members of the Twitter crypto community did not take kindly to Do Kwon's bravado. Though the Terra founder turned off comments on the post, users had their say using quote tweets. 
Criminals like you need to be behind bars – obvious today more than ever. https://t.co/XXSSVmJ6ri

— Mounia | IPC (@Mounia_NL) August 9, 2022
It is no news that Do Kwon's attempts at decentralized money had not gone so well, with many convinced that he defrauded users. Notably, the de-pegging of Do Kwon's stablecoin brainchild UST, which was supposed to fill the decentralized money gap by being backed by Bitcoin reserves, caused LUNA and UST holdings held by investors to become worthless overnight. As a result, Do Kwon and his firm remain under investigation in South Korea and the US, even as they face multiple class action lawsuits.
Do Kwon's statements come after Circle, the issuer of USDC stablecoin, blocks all Ethereum addresses associated with Tornado Cash, freezing over 75,000 USDC. Notably, the move followed a US sanction on the Ethereum-based cryptocurrency mixer. The move has since raised concerns over the lack of stablecoin censorship resistance amongst privacy advocates in the crypto space.
NEW: @circlepay's USDC has officially blacklisted every Ethereum address sanctioned by the US Treasury.

— Dylan LeClair 🟠 (@DylanLeClair_) August 8, 2022
Tornado Cash is a decentralized application that users can use to cover up a trail of crypto transactions on the blockchain. While privacy advocates argue that there are entirely legal reasons for these tools to exist, the lack of controls and recent use of these tools in headline-grabbing crypto exploits have become a cause for concern for regulators.
Completely legal (until today) reasons to use tornado cash

– you get paid in crypto and don't want your employer knowing all ur financial details

– you pay for a service in eth and don't want them to be able to see everything you've ever done onchain

— reza (@RezaJafery) August 8, 2022
Attackers used the dApp in the Ronin bridge hack that saw over $600 million stolen in crypto assets to funnel their loot. The same was also the case in the Harmony bridge attack.
Follow Us on Twitter and Facebook.
Disclaimer: This content is informational and should not be considered financial advice. The views expressed in this article may include the author's personal opinions and do not reflect The Crypto Basic's opinion. Readers are encouraged to do thorough research before making any investment decisions. The Crypto Basic is not responsible for any financial losses.
-Advertisement-