Shiba Inu (SHIB) Burn Rate Surges 283% as 213.34 Million SHIB Burned in Past 24 Hours, 90.64 Million in One Transaction.

Shiba Inu Community's interest in Burns increased as SHIB experienced a sudden spike in its burn rate in the past 24 hours.
Shiba Inu Community sent a whopping total of 213,344,808 (213.34M) SHIB to the "inferno" addresses in 14 separate transactions in the past 24 hours.
In the past 24 hours, there have been a total of 213,344,808 $SHIB tokens burned and 14 transactions. Visit https://t.co/t0eRMnyZel to view the overall total of #SHIB tokens burned, circulating supply, and more. #shibarmy

— Shibburn (@shibburn) August 30, 2022
Shiba Inu's Burn rate skyrockets 283% in the past 24 hours as one of the Community-led Burn Initiatives named "1Cent Token" burned 90.64 Million Shib tokens in one significant transaction. Besides this, the mysterious wallet also incinerated 84.46 Million in two separate transactions. Overall, the Shiba Inu Community has destroyed 213.34 Million SHIB in the past 24 hours.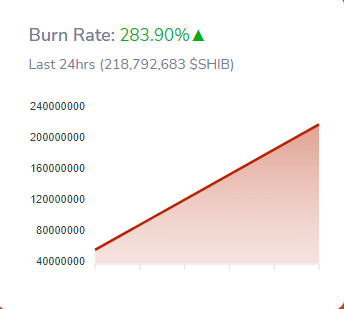 The Community-led burning project tagged "1Cent" burned the most Shiba Inu in the past 24 hours. The mysterious wallet stood second in the list of "Top SHIB Burners of the Day."
1Cent:
1Cent organized its Weekly Burn Event on Monday, August 29th, and destroyed a total of 90,648,714 (90.64M) SHIB in one significant transaction. The project shared a Burn Transaction link with the Community as a "Proof of Burn".
QUEMA SEMANAL🔥🔥
Cumpliendo como cada semana…

SHIBA 90,648,714https://t.co/cTaiCnoTxl

BONE 60https://t.co/E7M4TULMJy

CARDANO167https://t.co/l9wLsJc8B4#1CentEcosystem #certik #shibarmy #cardano #BONE #altcoin #Crypto #BTC pic.twitter.com/iKrPUreukM

— 1Cent (@1Cent_token) August 29, 2022
The project's official website claims that the 1Cent token has permanently removed a whopping total of 2,983,469,032 (2.98B) SHIB from circulation in 26 separate transactions since March 14th.
The Mysterious Wallet:
On the other hand, Etherscan.io data reports that the mysterious wallet has sent a total of 84,469,317 (84.46M) to the dead wallets in two separate transactions. The mysterious wallet carried the first transaction almost 17 hours ago and destroyed 71,117,329 (71.11M) SHIB. Just after a minute, the wallet performed a second transaction and incinerated another 13,351,988 (13.35M) SHIB.


Impact on SHIB Price:
Since the Community's interest in burning the most popular canine-themed cryptocurrency rises once again, the price of Shiba Inu has surged more than 5% over the last day to $0.00001257, with a 24-hour trading volume of $382,579,767 ($382.57M).
Follow Us on Twitter and Facebook.
Disclaimer: This content is informational and should not be considered financial advice. The views expressed in this article may include the author's personal opinions and do not reflect The Crypto Basic's opinion. Readers are encouraged to do thorough research before making any investment decisions. The Crypto Basic is not responsible for any financial losses.
-Advertisement-