KuCoin and Binance give Terra LUNA Classic (LUNC) tax burn a big boost.

The implementation of the LUNC tax parameter change by KuCoin and Binance has given a big boost to the 1.2% tax burn initiative as the number of tokens burned surged in the aftermath of the implementation of the tax to deposits and withdrawals by these exchanges.
Notably, these exchanges have burnt over 70 million LUNC tokens after implementing the tax parameter change. It bears mentioning that most of this volume likely came from the KuCoin implementation, as Binance only recently implemented the change. The figure above compares to just 18 million tokens burnt in the 13 hours before.
Highlighting that Binance has implemented the tax parameter change, WhaleClubs, a LUNC influencer account, shared a screenshot that suggests possible congestion on the exchange as investors are looking to withdraw large volumes of LUNC tokens. Consequently, it will not be surprising to see another huge surge in the number of burnt tokens.
Huge burn will happen from binance

Withdraw fee 1.2% #LUNC #LUNCBURN #LUNCBURNING

🔥🔥🔥🔥🔥🔥🔥🔥🔥🔥🔥🔥🔥🔥🔥🔥 pic.twitter.com/FwcMWACFZY

— WhalesClubs 🌓™ 𖣴 (@WhalesClubs) September 22, 2022
It is worth noting that after weeks of anticipation, the Terra Classic 1.2% tax parameter change went live yesterday. For the uninitiated, the tax parameter change will collect a 1.2% tax for all on-chain transactions. Notably, this tax is sent to the Terra burn wallet to reduce the excess supply of LUNC tokens and raise their value.
So far, over 100 million LUNC tokens have been burnt in the last 24 hours. The community aims to reduce the LUNC supply to 10 billion from a whopping 6.9 trillion.
80M LUNC were burnt on Sep 21 and 23M today so far since tax burn went live.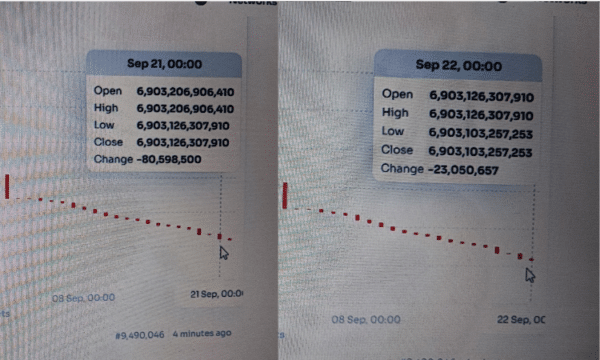 As reported by The Crypto Basic, if the weekly volume of LUNC remains around 1 trillion, then by applying the 1.2% burn tax, 14 billion LUNC can be burnt every week, 60 billion every month, and 720 billion yearly.
The community is also trying to lobby exchanges to apply the tax to off-chain activities. As earlier reported by The Crypto Basic, the community has even launched a proposal in this regard. Notably, Binance is at the top of the list for the LUNC community as it hosts the largest volume in terms of LUNC trading activity. Therefore, the community hopes to bring it up in a live AMA scheduled for today that will feature representatives from the exchange and LUNC developers, leveraging on a promise of support from Binance chief Changpeng Zhao.
LUNC is trading at the $0.0002835 price point, 1.77% lower in the last 24 hours.