Kusama gives an important update about Shiba Inu.
Shytoshi Kusama, the pseudonymous developer of Shiba Inu, has reacted to the project's failure to deploy Shibarium for public beta testing as promised. 
It can be recalled that Unification, the developers of the Layer-2 network, stated that both the alpha and public beta testing of Shibarium would be launched by the end of Q3 2022. 
"Unification's advisory work with Shibarium continues toward the fourth successful alpha and public testnets, still in plans for the end of the quarter release or sometime shortly thereafter," the company said in a statement last month. 
SHIB Holders Disappointed in the Delay, Kusama Reacts 
The announcement sparked jubilation in the Shiba Inu community, with many hoping that the team would keep to its words. However, the Shibarium public beta did not launch as expected.
One of the official Shibtoken channel members on Discord asked why the Shibarium public beta has not yet been deployed as promised. 
"We're already in Q4, and you guys are saying Q3, so what's going on?" the user asked. 
Responding to the question, Kusama said its partners, Unification, gave the date, not the Shiba Inu team. According to Kusama, it is not like the canine-themed project to give dates to determine when a project will officially roll out.
"Actually, we have not said a thing, but our friends said that public beta was coming in Q3 2022 or shortly thereafter," Kusama said in response to the question. 
While Kusama thinks the scheduled date seemed fair at the time, he clarified that Shiba Inu "does not give dates."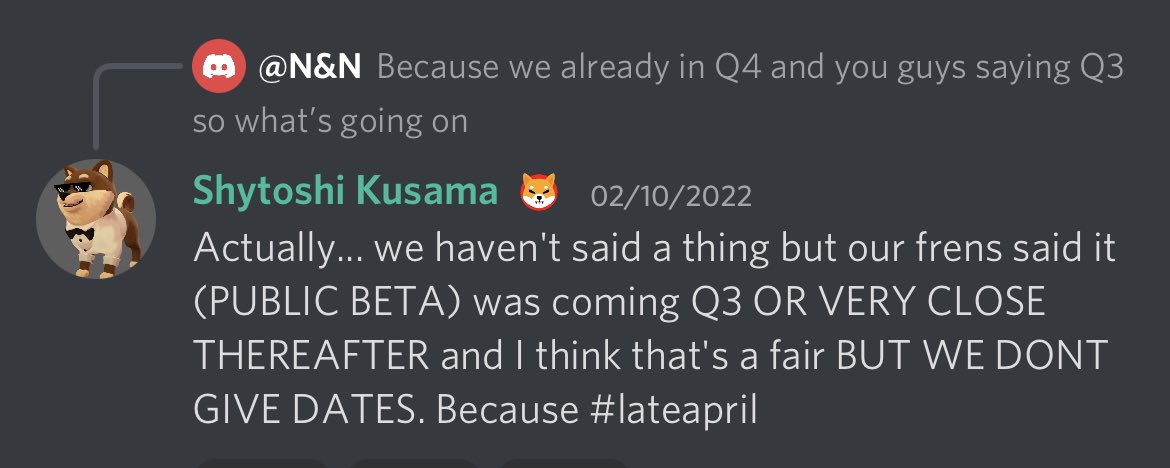 Image Source: Twitter
Shibarium's Importance to the Shiba Inu Roadmap
Shibarium is an important project of the SHIB ecosystem, which will further help Shiba Inu shred its meme coin title. All Shiba Inu-related projects, including SHIB, metaverse, shiboshi, the upcoming stablecoin SHI, Shiba Eternity, etc, will be migrated to Shibarium once the L2 network makes launches.
Follow Us on Twitter and Facebook.
Disclaimer: This content is informational and should not be considered financial advice. The views expressed in this article may include the author's personal opinions and do not reflect The Crypto Basic's opinion. Readers are encouraged to do thorough research before making any investment decisions. The Crypto Basic is not responsible for any financial losses.
-Advertisement-