Celsius Network reveals thousands of users' transaction histories.

The recent leak of Celsius Network's users' transaction history has revealed some interesting development days after the unfortunate incident happened.
It can be recalled that the troubled crypto lender Celsius had revealed the identities and transaction history of thousands of users, who suffered groundbreaking losses. The document comprises 1,450 pages and contains Celsius' customer personal information, including wallet ID, types of tokens held, and the value. Per the data, the top 10 Celsius investors suffered losses worth over $200.6 million at the current exchange rate.
Details of Celsius Customers' Losses
The Celsius customer who suffered the major loss is Jacob Benjamin Fite. According to the data, Fite ranked first in the list, with losses worth more than $40 million. Fite's major holding, which amounts to 98% of his portfolio, is Bitcoin (BTC).
The second Celsius user with the most losses is Hirokhado Kohji. The user lost a whopping $38 million in the Celsius collapse. Kohji is a Cardano maxi, as his major cryptocurrency holding is ADA. According to the data, Kohji held 60,901,003 (60.9 million) ADA before the Celsius Network incident. At the time of writing, Kohji's ADA holdings were worth $25.33 million.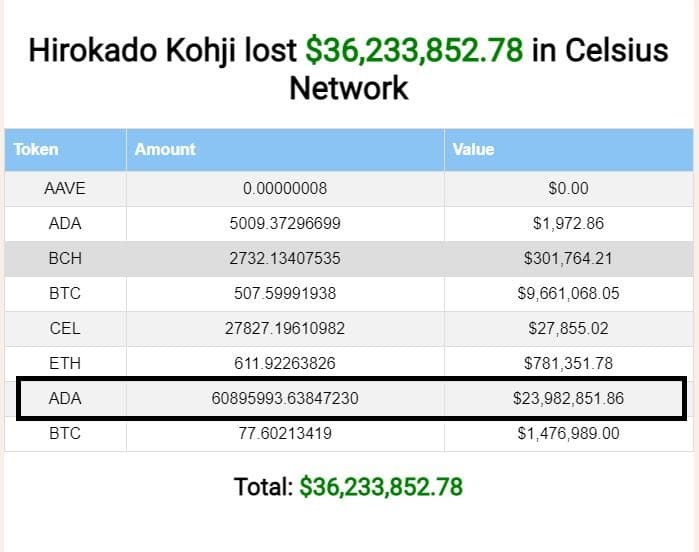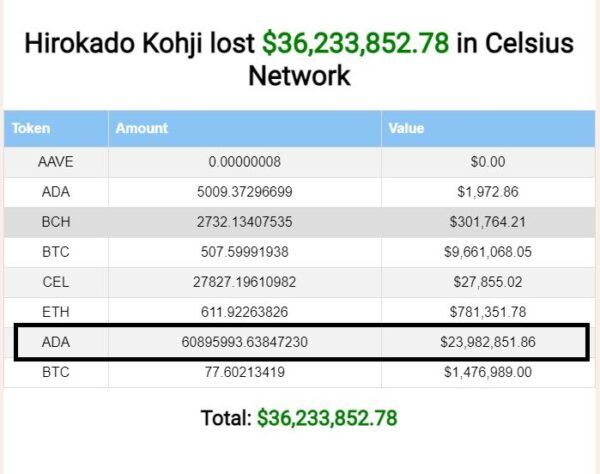 It is noteworthy that Kohji was not the only Celsius' top 10 individual investor that held a significant amount of ADA. Celsius' fourth-largest investor named Keri David, has a total of 269,993 ADA ($106,329) in his portfolio.
The amount of funds lost in the Celsius incident further confirms the importance of always being in control of your funds and not trusting a third-party platform.
Celsius Crisis
The Celsius data leak has received widespread criticism on various social media platforms. In a recent tweet by Nick Hansen, CEO and co-founder of Luxor, he noted that the crypto lender's data leak "could go down as the greatest breaches of customers' information ever." 
Meanwhile, Celsius had already filed for Chapter 11 bankruptcy earlier this year, and the proceedings have commenced. The company is seeking to auction some of its assets to reimburse creditors. As reported by TheCryptoBasic, some companies, including Ripple, already indicate interest in Celsius assets.
Follow Us on Twitter and Facebook.
Disclaimer: This content is informational and should not be considered financial advice. The views expressed in this article may include the author's personal opinions and do not reflect The Crypto Basic's opinion. Readers are encouraged to do thorough research before making any investment decisions. The Crypto Basic is not responsible for any financial losses.
-Advertisement-