- Advertisement -

Ripple's XRP Ledger (XRPL) has processed over 75 million blocks, indicating a rapidly surging adoption rate.
Blockchain has introduced myriad benefits to the financial sector and other areas of everyday life. As a consequence, Ripple is building on the nascent technology, as it introduces scalability that could only have been dreamt of a decade ago with its XRP Ledger (XRPL).
Due to its robustness, XRPL has enjoyed massive adoption from several firms within and outside the crypto space. Recent data highlight this growing adoption, as XRPL appears to have processed over 75 million blocks as of press time.
A look at XRPL statistics on the XRPL Services platform reveals some impressive data on the ledger. The ledger index, which tells the blockchain's latest block, shows an index of 75,013,727. This indicates that the ledger has processed over 75 million blocks cumulatively – an impressive achievement.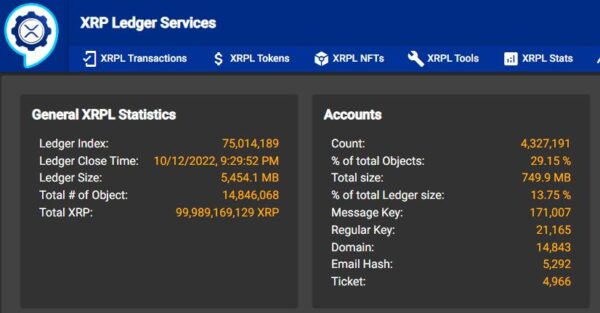 The stats indicate that the XRPL is home to over 4.3M accounts or wallet addresses. This data is confirmed by information from leading crypto market intelligence products provider Messari. Data from Messari shows that there are 4,336,389 wallet addresses on XRPL as of press time.
Out of the 4.3M+ accounts, about 473K have balances of at least $1K worth of XRP, with over 10K accounts holding XRP worth at least $100K. Furthermore, whale accounts with balances over $10M amount to 325 at the time of writing – which is 0.007% of the total address count of 4.3M.
Despite its seemingly incessant litigation with the SEC, XRP has been on a steady growth path. The recent Crypto Winter has also done little to check its expansion. Early last month, Seattle-based FinTech startup Stably announced a partnership with Ripple that will enable the firm to issue its stablecoin USDS on XRPL.
Colombia had launched an initiative to utilize XRPL for its National Land Registry. Although the initiative was suspended prematurely due to a change in government, it highlighted the massive mainstream attention the XRP Ledger is garnering.
As reported by The Crypto Basic today, in the most recent development, XRPL Labs Launched an On/Off-Ramp Service For XRP In The Netherlands, With Germany, Belgium, And The UK Possibly Next. XUMM Pro wallet users in the Netherlands can easily swap their Euro for XRP and vice versa without any third party.
Amidst this rising espousal rate, XRP – Ripple's native token – has been putting up a decent fight against the bears. Following reports of Summary Judgement motions filed by Ripple Labs and the SEC in the seemingly neverending litigation, XRP surged massively.
From consolidating below $0.40 on September 19, XRP rallied to $0.50 in five days before meeting a fierce rejection. Despite the rejection, the asset held up well above $0.44, staging another rally to $0.53 on Monday.
XRP currently trades at $0.49, down by a meager 0.90% in the past 24 hours. Notwithstanding, some analysts believe XRP's recent rally might have seen its terminus, forecasting a looming correction. As previously reported, analyst Ali Martinez predicted a correction to the levels between $0.39 and $0.42.