- Advertisement -

Aptos (APT) dominates social trend tables despite its bumpy start.

FTX-backed project Aptos saw a not-so-welcoming atmosphere following the launch of its token APT. Due to growing security concerns surrounding its airdrop and a subsequent price dip, the community has not favorably received the advent of the asset. 
Notwithstanding, it appears there is a silver lining to the rising inauspicious sentiments, as Aptos is currently experiencing a massive rise in social dominance, highlighted by Lunar Crush – a crypto social intelligence provider.
"Aptos came out of nowhere and is trending hard." Lunar Crush remarked in a tweet on Wednesday.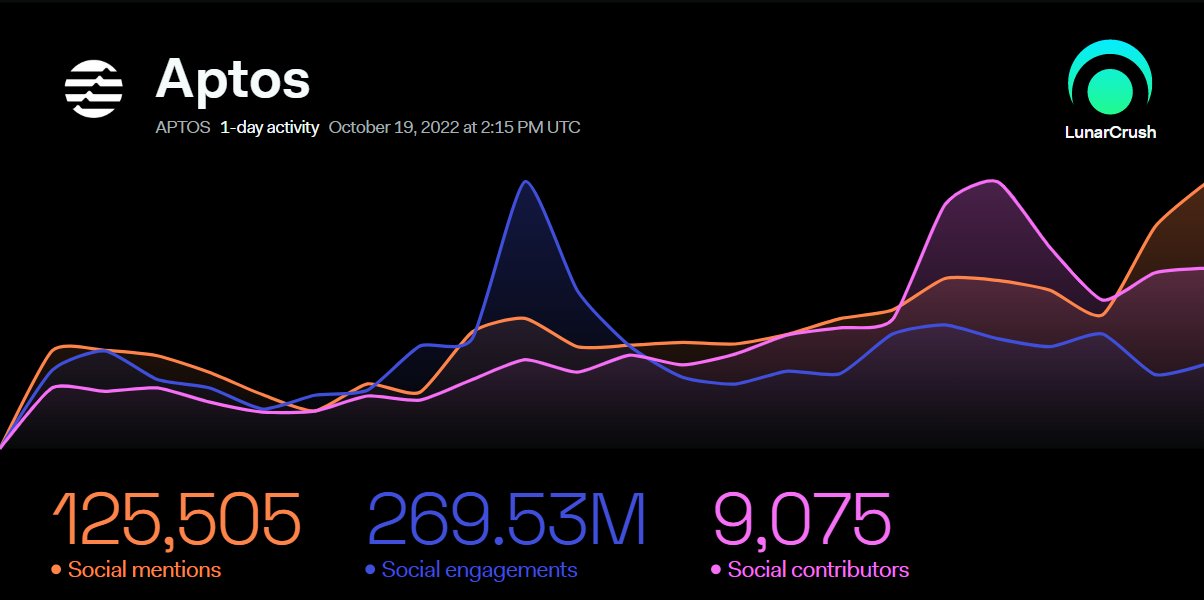 Details show a tremendous increase in Apto's social activity in less than 24 hours. Data from the Lunar Crush dashboard reveals over 9K contributors in Aptos' social activity, indicating a 30,503% increase in the past 24 hours.
Additionally, social mentions of Aptos within the crypto community have surged by a whopping 121,650% in the past 24 hours to a value of 131.49K as of press time. Furthermore, Aptos social engagements have hit a massive value of 271.45M. Aptos' Galaxy Score on the Lunar Crush platform has also increased by 7% in the past 24 hours, as the asset rises to a score of 43/100.
Aptos is trending on Twitter in the business and finance category with 219K tweets.
Since Aptos' surging social dominance is not an automatic indication of a positive outlook on the asset, it will likely bring the token more mainstream attention and increase investor interest.
Amidst the growing concerns within the Aptos ecosystem, The Crypto Basic recently reported shocking data involving the asset. A new mysterious batch of Aptos tokens was recently minted across multiple chains, including Binance Smart Chain and Ethereum.
In addition to previous reports of selloffs prompted by the sudden release of huge Airdrop to early adopters, this has likely contributed to Aptos' current trend.