- Advertisement -

An unidentified entity has just paid a gas fee of 121 ETH ($157K) for a single transaction on the Ethereum chain.

One of the major selling points of cryptocurrencies is the promise of low transaction costs compared to what is obtainable with traditional finance. Notwithstanding, certain entities transacting in cryptocurrencies are willing to pay above-normal rates for priority treatment. This pattern is usually involved with certain whale transactions.
Recently, the crypto community witnessed one of the largest gas fees paid for in a single transaction on the Ethereum blockchain. A fee of 121.56 ETH, worth $157,764 against prevailing rates, was just paid for a single transaction, as revealed by Whale Alert Wednesday.
" A fee of 121 ETH (157,764 USD) has just been paid for a single transaction!" Whale Alert disclosed in a recent tweet, sharing a link to the transaction details.
💸 A fee of 121 #ETH (157,764 USD) has just been paid for a single transaction!https://t.co/TtkdeDkWcz

— Whale Alert (@whale_alert) October 19, 2022
Since the transaction fee with the Txn Hash 0x4a84d0872887f91546cd5400cf99763b654975efb3376ee55e4463bcfbca4e97 can be tracked on Etherscan, the very nature of the transaction itself and the entity behind it remains a mystery. For transferring 183 Ethereum, a fee of 121 ETH was deducted.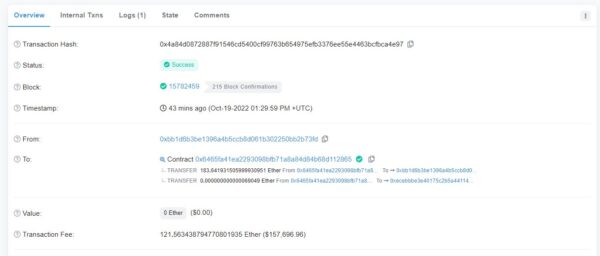 Details, however, confirm that the transaction occurred on October 19, 1:29:59 PM (UTC+1). The sheer magnitude of the fee paid has raised concerns amongst proponents. Several individuals wondered who was willing to pay or was any kind of blockchain error resulted in paying up to $157K as a fee for a single transaction.
Despite the shocking nature of the cost of such a seemingly inconsequential transaction, there had in the past been certain occasions where investors transacting on a chain inadvertently paid high gas fees for small transactions.
These occurrences had either been attributed to mistakes on the individuals' part or a blockchain error. Notwithstanding, following Ethereum's full-blown transition to PoS, this is the first time the community is witnessing this occurrence.
However, critics will use the opportunity to highlight Ethereum's transaction cost, making known their advocacy for other chains such as Solana and Cardano, which promise lowered fees compared to Ethereum's and are often touted as Ethereum Killers.