A USPTO attorney says PayPal has filed a trademark to expand its crypto offerings.

PayPal, an online payment company, has reportedly filed trademark applications that will expand its cryptocurrency offerings. Mike Kondoudis, a USPTO licensed trademark attorney, revealed the development today on Twitter. 
According to attorney Kondoudis, PayPal filed the application on October 18, 2022, to exchange, trade, process, and transfer blockchain and digital assets. The leading online payment company also plans to offer digital currency processing services, as revealed in the application. 
"PayPal has filed trademark applications for PAYPAL and its "overlapping Ps" logo. The apps claim plans for exchanging, trading, and processing transfers of Blockchain + digital assets, Crypto + digital + virtual currencies, etc.," attorney Kondoudis said.
According to details, the Paypal trademark application asks for "Downloadable software for sending, receiving, accepting, buying, selling, storing, transmitting, trading, and exchanging Digital currency, … cryptocurrency, stablecoins…
… Payment processing services, namely, providing virtual currency transaction processing services for others, financial services, namely, providing stablecoin currency, cryptocurrency for use by others…"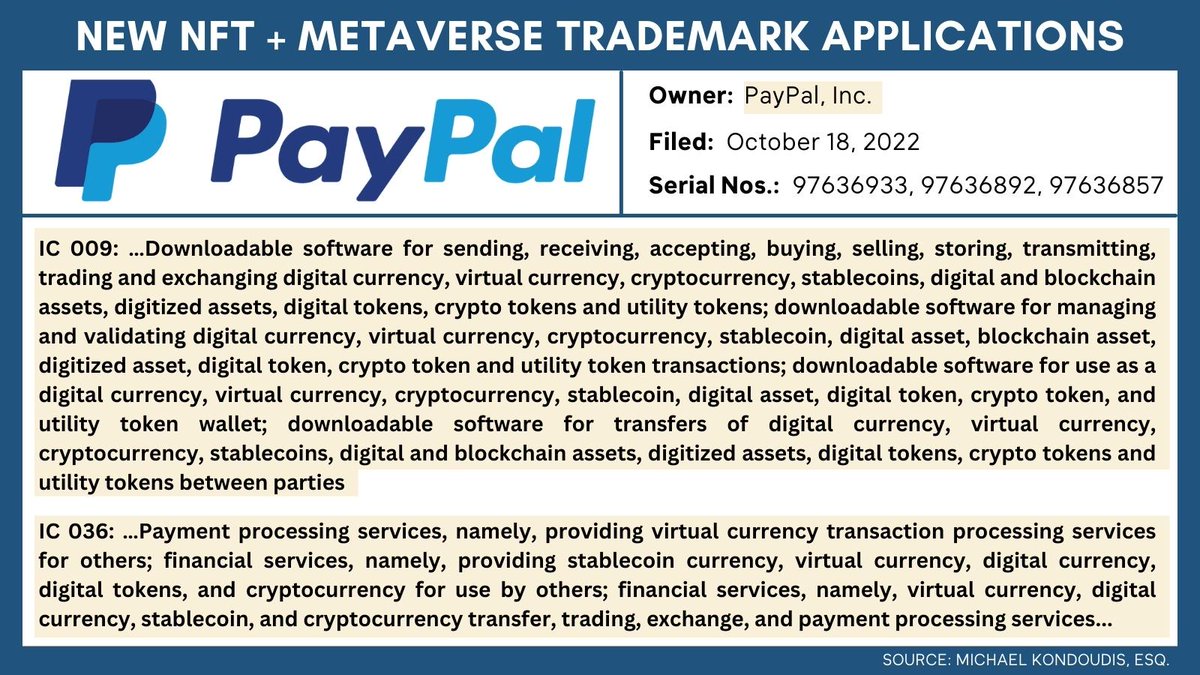 At the time of writing, PayPal is yet to respond to a request for comment.
PayPal's Cryptocurrency Offerings
Meanwhile, this is not the first time PayPal has showcased an interest in cryptocurrencies. In 2020, PayPal launched a new service that enables its more than 350 million customers to buy, sell, and hold Bitcoin within the platform. Earlier this year, PayPal expanded the service, allowing its clients to send Bitcoin and Ethereum out of the platform to their external wallets. 
As reported, PayPal is considering launching its stablecoin backed by the United States dollar.