- Advertisement -

Whales continue to mount pressure on Bitcoin price by selling the top asset.
As the price of Bitcoin surged above $20,000, high net-worth investors saw the recent price hike as an opportunity to offload their old BTC holdings. According to CryptoQuant data, whales have moved 8,270 BTC in two days. At the current exchange rate of $20,835, the 8,270 Bitcoins are worth $172.3 million.
The anonymous whales have held the Bitcoin for three to five years without selling. However, they saw the recent hike in Bitcoin price as an opportunity to sell the top asset class.  
"Old Bitcoin on the move. For the 4th time in two days, a relatively big Bitcoin transaction took place with coins between 3 and 5 years old. A total of 8,270 $BTC has been spent in this period," a crypto analyst known as Maartunn tweeted today.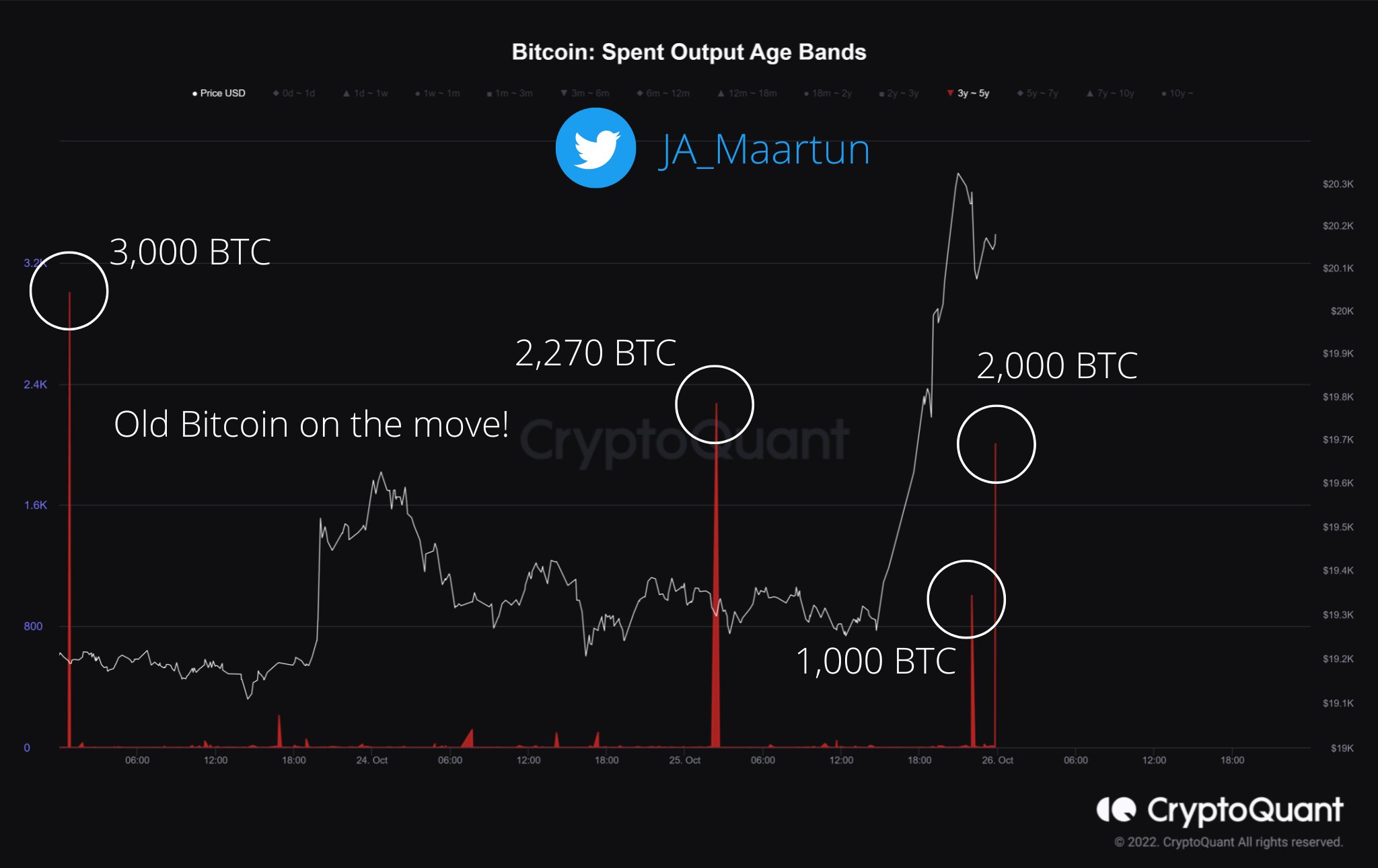 Whales Continue Selling BTC As Price Soars
Per the data shared by Maartuun, a total of 5,270 Bitcoin held for at least three years were moved by anonymous whales yesterday. The huge transfer of old Bitcoin continued today, as Maartuun observed the movement of another 3,000 BTC.
The anonymous whales are taking advantage of the recent BTC rally to sell their old BTC holdings. As reported by TheCryptoBasic today, holders of Bitcoin for over a year have sold over 50,000 BTC in a week. Investors who have held the top asset class for over two years were sold 40k units of the cryptocurrency, while Bitcoin holders for over three years offloaded 30k BTC in one week.
The continuous selling of BTC by whales has continued to mount pressure on the world's largest cryptocurrency price. At press time, a unit of Bitcoin is trading above $20,800, up over 7% in the last 24 hours. Many hope the rally will continue to enable Bitcoin to soar above $21,000. However, with old Bitcoin investors offloading the asset class, BTC may retrace.