Leeuwarden, Netherlands, 11th November, 2022, Chainwire
The web3 gaming company Kryptomon which develops the living-NFT-powered metaverse game combining Play-and-Earn gaming mechanics, announced today its partnership with Unstoppable Domains, the leading provider of Web3 domains.
The partnership features an exclusive collaboration between the two brands that will grant Kryptomon NFT holders a unique verification badge to be displayed on their Unstoppable Domains profile. Every Kryptomon NFT holder will also receive $50 towards Unstoppable Domains, so they can secure their Web3 identity.
"Web3 domains open up exciting possibilities for gaming, giving gamers a single identity they can use to showcase their achievements, get rewarded, and more," said Sandy Carter, SVP and Channel Chief, Unstoppable Domains. "We're excited to team up with Kryptomom to give gamers more ways to rep their achievements on Web3."
Umberto Canessa Cerchi, CEO of The Kryptomon Company, said about the new partnership: "We are excited to partner with Unstoppable Domains, the leading Web3 domain provider in the world, to provide our users with exclusive features to ease their use of our games and enhance their gaming experience, and we are looking forward to have a fruitful partnership for both parties for the benefit of both our users."
The companies are also collaborating to include a unique Unstoppable Domains login system (SSO) into Kryptomon games to ease the process of login and onboarding of new players. In addition, Unstoppable Domains and The Kryptomon Company are exploring to add in the future the ability for their users to purchase unique NFT domains with the suffix ".kryptomon" and ".kmon".
About the promotion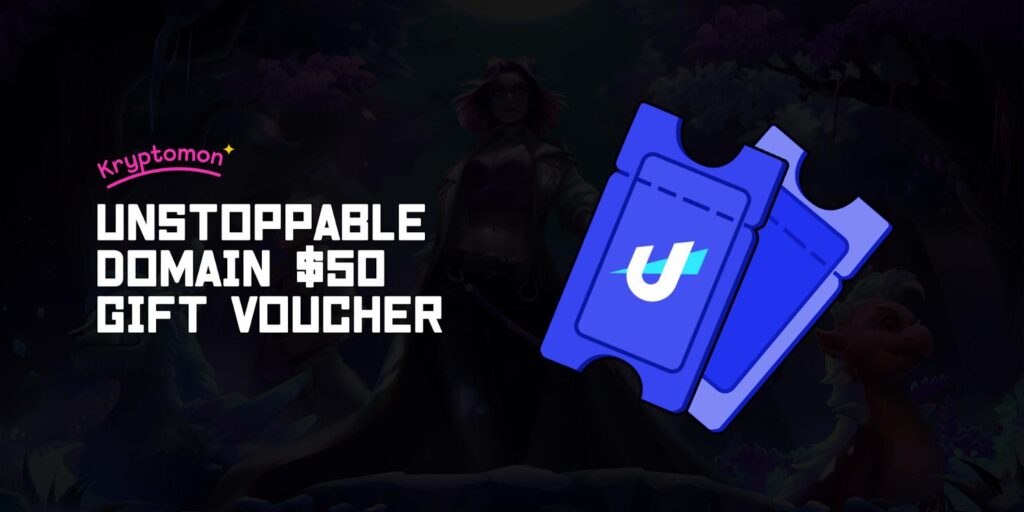 The Unstoppable Domains $50 gift voucher will be redeemed by Kryptomon NFT owners under the company's website and will be delivered to the owners by email. Each code can only be used once. If users do not have an Unstoppable Domains account, they will be asked to create one. If users already have an account, they can use the store credit to buy domains right away.
In the next days, Kryptomon NFT holders will be already able to start claiming their Unstoppable Domain $50 gift vouchers on Kryptomon's official website. 
About Kryptomon 
Kryptomon is a web3 gaming company. Set in the Kryptomon Metaverse, community members play as "Trainers," taking care of their own NFT pet monsters, which have a unique and mutable genetic code of 38 randomized parameters that determine their physical and behavioral characteristics. They are capable of learning, falling sick, getting hungry, and protecting their trainers when out on an adventure in the physical world. In turn, trainers must care for, feed, and train their Kryptomon partners to grow and prepare for the battles ahead. Kryptomon aims to create the next step in the evolution of crypto and Metaverse gaming by using blockchain, digital genetics, and location-based technologies. To see how Kryptomon is creating its unique gaming universe, please visit https://kryptomon.co/ 
Social links
Telegram: https://t.me/kryptomonofficial 
Twitter: https://twitter.com/KryptomonTeam 
TikTok: https://www.tiktok.com/@kryptomongame
Instagram: https://www.instagram.com/kryptomonteam
Facebook: https://www.facebook.com/KryptomonTeam 
Discord: https://discord.gg/kryptomon
About Unstoppable Domains
Founded in 2018, Unstoppable Domains is a Web3 domain provider and digital identity platform. Unstoppable Domains offers Web3 domains minted on the blockchain that give people full ownership and control of their digital identity, with no renewal fees. With Unstoppable Domains, people can replace lengthy alphanumeric crypto wallet addresses with a human-readable name and log into and transact with over 200 apps, wallets, exchanges, and marketplaces. Forbes named the company one of America's Best Startup Employers in 2022. 
Social links
Telegram: https://t.me/unstoppabledomains 
Twitter: https://twitter.com/unstoppableweb 
Instagram: https://www.instagram.com/unstoppabledomains/ 
Facebook: https://www.facebook.com/unstoppableweb/ 
LinkedIn: https://www.linkedin.com/company/unstoppable-domains/
Contact
CMO
Tomer Warschauer Nuni
Kryptomon
tomer@kryptomon.co
+972547000765

Follow Us on Twitter and Facebook.
Disclaimer: This content is informational and should not be considered financial advice. The views expressed in this article may include the author's personal opinions and do not reflect The Crypto Basic's opinion. Readers are encouraged to do thorough research before making any investment decisions. The Crypto Basic is not responsible for any financial losses.
-Advertisement-