Qatar 2022 Ecosystem provides exciting solutions for a stable passive income, and utility token $QAT supports the Qatar 2022 Ecosystem, making it efficient and user friendly.
Behind the Qatar 2022 Ecosystem project is an absolutely open professional development team that has wide experience in cryptosphere. The main participants are presented on the site with links to their LinkedIns and Twitters. Also, the team members have been KYC verified.
The guys from Qatar 2022 Ecosystem took care of the security if the $QAT token smart contract and conducted two independent audits in the top companies of this field: TechRate and Solidity Finance.
Both audit companies gave the highest security evaluation of the smart contract, and also confirmed the absence of technical errors in the ecosystem operation. This is not a critically important aspect that investors should pay attention to, especially at the present time.
Qatar 2022 Ecosystem includes some tools for passive income: mining, farming, nodes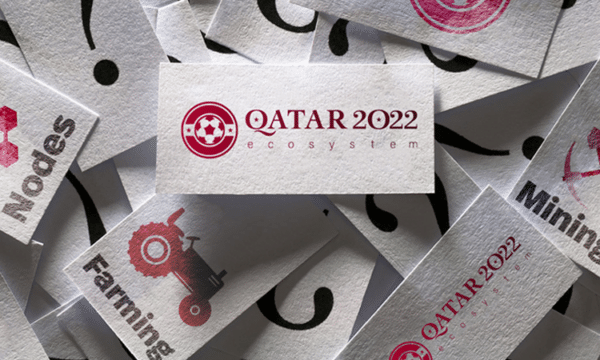 Mining
On the basis of the Qatar 2022 Ecosystem platform there is 7 pools for mining: QAT, USDT, BUSD, ETH, USDC, DOGE and BNB. Investors can, without buying $QAT tokens, plows into Miner and gets stable tokens, the price of which is attached to the dollar. Also, investors, during the Pre-Launch, have an opportunity to reserve a place in any available pool to get special provisions with increased APR by contrast with the others who will plow into miners after listing.
Farming
Qatar 2022 Ecosystem provides the highest annual rate of market farming. After listing, it is opened 9 pools into which users can invest their LP tokens and get passive income in the sum of up to 4282% APR of deposit amount.
Nodes
Qatar 2022 Ecosystem developed two types of Nodes – Full and Lite.
Full nodes act as a server in decentralized network. Their main tasks are consensus supporting between other nodes and verifying transactions. They also store the copy of blockchain that is makes them more safety and allows to set such functions like instantly send and private transactions.
The set of Full nodes selected by lite nodes form the following block and get a verified block transaction fee. Transaction fee equidistributes between all validators in this set.
The goal of Lite Nodes is to select full nodes as a validators for block formation. For this, Lite Nodes get a fee that is a part of remuneration for block. The extent of remuneration also depends on this Node's reputation, the reputation can drop if the node will not be available, i.e. offline.
Tokenomics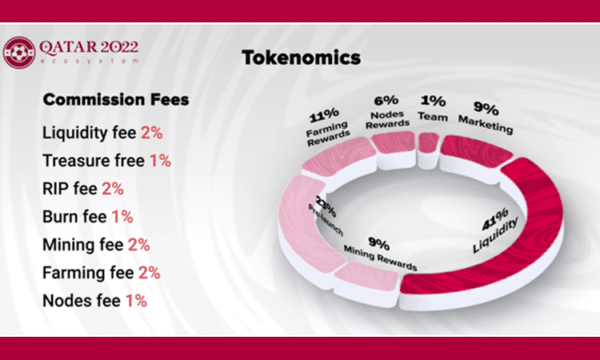 Qatar 2022 Ecosystem team gave a high importance for tokenomics and developed maximum balanced token distribution from among all elements:
Pre-launch 23%
Farming Rewards 11%
Mining Rewards 9%
Nodes Rewards 6%
Liquidity 41%
Marketing 9%
Team 1%
The high percentage doles out on liquidity, that, on the other hand, guarantees the token trade with minimum spillage for users. On team, it was doles out just 1% of tokens with linear unblocking in 36 months. This shows the fact that nobody can bring token price down.
Also, to support the ecosystem, into smart contract, it is built in the mechanisms that use commission fees to provide with stable work of all tools. Also, into smart contracts, there is an automated token «burning» system that stands against the inflationary development and promotes the high token price.
Liquidity fee – 2%
Treasure fee – 1%
RIF fee – 2%
Burn fee – 1%
Mining fee – 2%
Farming fee – 2%
Nodes fee – 1%
Pre-Launch Qatar 2022 Ecosystem
Pretty soon Qatar 2022 Ecosystem initiates the Pre-launch on its platform. The total supply of tokens doled out on Pre-Launch will be 2,600,000. The $QAT token price, for Pre-Launch participants, will be $0.35, the token price at the listing moment will be $0.60. Participating in Pre-Launch, you can not only buy $QAT tokens, but also reserve the place in mining pools on luxury terms. Also, you can turn owner of full and lite nodes. This allows you to get as high as possible passive income!
Below are all the social networks of the Qatar 2022 Ecosystem project, subscribe and follow all the project updates.