- Advertisement -

Tellor is a relatively new small-cap altcoin in decentralized finance (Defi). Defi is coming up incredibly fast. More and more crypto and blockchain projects are starting to deal in Defi. We are happy to explain what Tellor is, how it works, difference between Chainlink and Tellor and why Tellor is used.
Tellor Team
The experienced team is one of the essential points of success. A professional team behind a project is one of the most critical fundamental criteria for the sustainability of a project. The tellor team consists of 3 prominent members:
Brenda Loya (CEO)

Michael Zemrose (co-founder)

Nicholas Fett (CTO))
The CEO and CTO have experience and are Ethereum developers. They also founded DAXIA. This is a company that created Ethereum derivatives and smart contracts. They're also both economists. The CEO has worked for the US government, and the CTO has worked for the CFTC. The co-founder has also worked at DAXIA.
They are three different profiles, but very experienced in their field and know each other well as they have founded a company about Ethereum before. So they know how to work together as a team.
The rewards for the tellor's team
Also known as "Dev revenue share" it means that 10% of the total revenue generated by miners goes to the Tellor team's wallet. That may sound weird and unfair, but it's not. This project did not had any ICO or raised money in any other way. The team set up the project with their funds. That is why this is their way of continuing to finance the project.
This is, of course, the most challenging model to start with since you have to explain your project to everyone and you don't ask for any funding. It is also the fairest model, to begin with, because the project has to be financed by the team itself.
What Is TELLOR (TRB)?
Tellor is a hybrid solution between Strike and PoW, It is a method that has proven its effectiveness in resisting attacks (Sybil attacks) and ensuring network life.
Tellor, like Chainlink, is a decentralized Oracle on Ethereum where Proof-of-Work (PoW) is used. Nodes compete with each other to retrieve data and place it on the blockchain.
Oracle makes it possible to send information/data from the real world (also called off-chain data) to smart contracts. For example, it is possible to check whether certain conditions of a smart contract have been met using data from the outside world.
See the video explaining what is Tellor:
Let's say there's a smart contract that ensures you get you aero plane ticket. This smart contract makes it possible that you automatically and without human intervention get your money back (without having to make a claim) if your flight is delayed or canceled.
At this point, Oracle will do its job. It retrieves data from airports (if the flight was delayed) or weather stations (if the flight was canceled due to a storm). The Oracle will then forward the information to the smart contract, after which you will be refunded.
Problems Solved By Tellor
Tellor wants to solve price problems for the Defi applications. The team is working to provide more secure and transparent data to the Defi world. Oracle is also a database for miners competing against each other.
The TRB token (Tellor's token) was created to send information to Oracle. It is also the basis for the rewarding miner. Each time a request is made, the Oracle ensures that the best search can be performed by the miner every 10 minutes.
Another problem with Defi is reliability. As in the above example, it could happen that someone is supplying incorrect information. As an application, you have to assume that the data provided is correct. Checking the data is also one of the problems.
Tellor Oracle is an on-chain database where miners compete to add data points. To create a suitable incentive system, Tellor uses the TRB token. The parties pay TRB to send the data request to Oracle.
Based on the reward awarded per request, Oracle chooses the best-Sponsored query every 10 minutes to create a challenge for miners and thus to solve. Each query collects specific data (e.g., BTC/USD price) and transmits it to the chain.
How Does Tellor Work?
First, the user will send a query to Tellor with TRB to encourage miners to choose this query over other queries. It's a sort of auction. There may be other users who want the same data. They pay or tip for that dataset to encourage the miners even more.
Every 5 minutes, tellor's smart contract selects the best-funded searches and offers a new challenge for miners. Miners send their PoW solution and off-chain data points to the Tellor contract. The Tellor contract sorts the solutions when they appear, and once they have received 5 Solutions, the official solution (the average of 5 Solutions) is chosen and stored on the blockchain. Miners will then receive their payout.
Of course, it can also happen that someone provides false information. The network can vote on that. The day after the vote, the condemned can challenge the result by paying a high fee. If it eventually turn out that the supplied data was wrong, the miner loses the case? If it turns out the miner was right, he will receive an additional reward.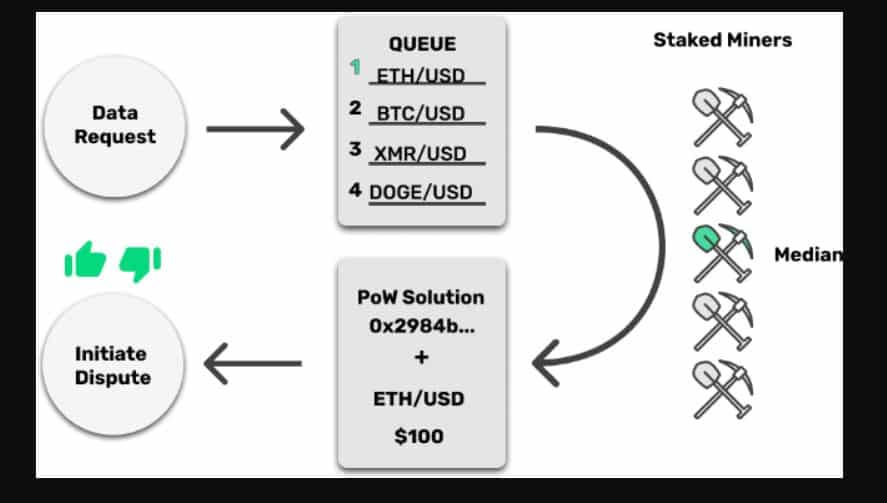 Tellor Technology
The Oracle can ask miners for new data every 10 minutes. The miners then send the data. An average of five miners data is made, and the miners share the reward of the request. Miners are encouraged to provide reliable data in two ways:
They earn TRB tokens for every search that is processed.

They must store a certain number of TRB tokens to be eligible to resolve queries.
If the miner's data is not validated or incorrect, he will be punished, and the network will take the number of TRB tokens he possess. Tellor has opted for a hybrid system that makes it possible to both reward and punish an unreliable miner.
The number of TRB tokens required to qualify for Tellor PoW is 1000 TRB tokens. That is a significant amount of money that miners cannot afford to lose by adding false information to the blockchain.
Especially since the Oracle doesn't use one source to validate data, and anyone can challenge a miner. So miners are proactive to avoid any conflicts.
Any holder (owner of tokens) can challenge data added to the Oracle and, in return, earn TRBS if a consensus is reached between holders, voting for the correction of the data in favor of challenger.
Tellor Security
Tellor use security model where it would cost 1000 TRB per block to hack the Tellor network. That a lot of amount to attack the network. The more data confirmations, the more reliable the data is. Since anyone can challenge submitted data and be rewarded if it is confirmed, it is unlikely that false data will remain unaffected for a long time. This defensive model is similar Bitcoin blockchain, where the costs required to carry out a double-spending attack are very high. And the attack is not of any worth if it is not profitable.
Tellor vs Chainlink
Many people think that Chainlink and Tellor are very similar. That makes sense because both blockchain projects are working with quite the same goal. Both projects ensure that off-chain data can be delivered to the blockchain.
ChainLink currently has more confidence in Defi than any other project. LINK has only a few nodes identified and given permission to publish data to Oracle, especially because nodes are very expensive since you need to have a lot of LINK in your node to publish data.
The Tellor team is focused on decentralization. Anyone with 1,000 TRBS can set up a node and offer data to Oracle. Miners are anonymous and compete to provide the requested data.
Tellor also has a feature that allows token holders to challenge the data. If the challenge is legitimate, the challenger will be rewarded. This is a trait that Chainlink does not have.
See below a video explaining the difference between Chainlink and Tellor.
The TRB-token
Tellor's token is called the TRB token. This token is extremely important, as it performs various functions. Many believe that the token is the most important thing for Tellor Oracle. Therefore, it is crucial to know what the token does and what it can be used for.
What can TRB be used for?
Payment: Users use TRB to retrieve the specific data they need. When miners submit data on the blockchain, they are paid with the TRB tokens as a reward.
Reward:  When miners add data to the Tellor system, TRB is given as a reward for miners. The Tellor team gets 10% of the mining reward.
Compete: The miner must send 1,000 TRB to the Tellor network to participate in the mining process. This is a way to avoid dangerous situations with the network.
Dispute compensation: TRB is used to resolve disputes about the validity of data. Both opponents and supporters will vote on the validity of the data.
Tokens Adoption
Here's how Tellor thinks TRB token adoption will go:
Always Retrieve reliable data.

Increase in the value of the token price.

Increased rewards for miners.

Increased demand for tokens, as miners want to bet for rewards.

Higher security of the Oracle.

Increased approval.
This upward spiral decreases the profitability (incentive) of providing partial data to Oracle, as cheaters are punished. 
Tellor didn't had any ICO or fundraising. The TRB tokens are therefore only issued through mining. Tellor's total supply is determined by its use and extraction rates. For maximum supply, tellor's coins increase with the percentage of remuneration * 144 requests per day.
Where To Buy TRB?
It is possible to buy TRB tokens on significant exchanges and also on many small exchanges. You can find TRB tokens on Binance, VCC, OKex, Huobi Global, Bibox, Bithumb, Gate.io, Poloniex, and Coinmerce. 
In the beginning, few exchanges supported TRB. But there was an explosion in the price of TRB, as more and more exchanges started offering TRB. As more trading venues support TRB, there is more liquidity. This is healthy for maintaining future price growth. 
Tellor Wallet
TRB tokens can be stored in almost any wallet that supports ERC20 tokens, as TRB is an ERC-20 token. 
The popular ERC20 wallets are Trust Wallet, Metamask, Ledger Nano S, Trezor, MyEtherWallet, Atomic Wallet, Coinomi, Enjin Wallet. You can store your TRB coins in any ERC20 compatible wallet but always make sure that to store your coins in a trusted wallet.
You can also store TRB coins on exchanges that provide top security like Binance, but it is not recommended to keep crypto on exchanges.
TRB Price Prediction
TRB was launched in Oct 2019. The launching price was 0.010 USD. No one would have thought that the TRB price would reach an All-Time High of $87.63 in Aug 2020. That is insane for profit for early TRB holders in matter of months. That is why crypto is famous for such high yields. But always remember that crypto can give you losses in the same way.
Our TRB price prediction for 2021 is $45 to $80.
TRB price prediction for 2022 is $75 to $200.
TRB price prediction for 2025 is $500 to $1000.
Please remember that these are speculations, and no one can guess what will be the future for any crypto coin. Please do your research before investing in any cryptocurrency.
Useful Links