Over 44.32 Million Shiba Inu has been burned in the past 24 hours, 10.67 Million in a single transaction.

Shib Army collectively sent a whopping 44,328,245 (44.32M) SHIB to the dead wallets via 11 separate transactions in the past 24 hours.
In the past 24 hours, there have been a total of 44,328,245 $SHIB tokens burned and 11 transactions. Visit https://t.co/t0eRMnyZel to view the overall total of #SHIB tokens burned, circulating supply, and more. #shibarmy

— Shibburn (@shibburn) December 6, 2022
Mysterious Wallet Burned 10.67 Million SHIB:
The mysterious wallet performed a major burn transaction of the day. As per Etherscan.io data, the mysterious wallet has taken out a total of 10,674,214 (10.67M) SHIB from circulation forever in one significant transaction executed about 5 hours ago.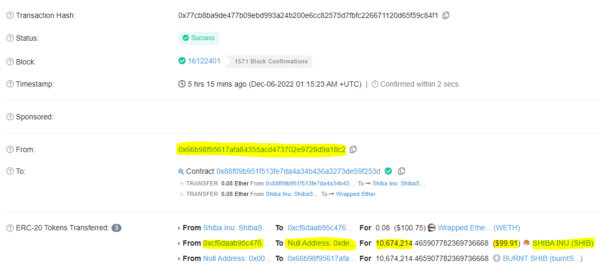 The wallet might burn some more of the SHIB in the upcoming days as the unknown wallet still holds a humungous 326,307,743,664 (326.30B) SHIB, worth $3,050,977 ($3.05M).

1Cent Token Burned 3.90 Million SHIB
The most prominent Community-led SHIB Burn initiative, "1Cent," executed a second big burn transaction of the day. 1Cent token recently organized a Weekly Burn Event and destroyed 3,909,602 (3.90M) SHIB in a single transaction. As per Etherscan.io, the transaction was executed about 11 hours ago.
1Cent token also reported a burn of 45 Bone ShibaSwap (BONE) in a separate transaction. BONE is the governance token of the Shiba Inu Ecosystem that would be used as a native Gas token on the much-awaited Shibarium Protocol.
#1CentEcosystem
Seguimos cumpliendo con las quemas semanales…
🔥🔥
SHIB 3,909,602https://t.co/jzIrbvnDIH
BONE 45https://t.co/7yhMQswb6o
ADA 87https://t.co/jzIrbvnDIH#SHIB #bone #CardanoCommunity #Altcoins #BSC #BTC #Crypto #cryptocurrency #SHIBARMY #Certik pic.twitter.com/6T25tqGPKI

— 1Cent (@1Cent_token) December 5, 2022
Despite the massive burns, Shiba Inu is trading in the red. As of writing, SHIB is trading at the price of $0.000009349, down -4.51% over the last day, with a 24-hour trading volume of $182,094,481 ($182.09M).