Shiba Inu Price Rebounds, As Whale adds Large Amount Of SHIB.
A deep-pocketed Shiba Inu investor tagged "marsbrothers.eth" amassed a whopping $2.99 Million worth of SHIB in the past hour as the price of Shiba Inu rebounds sharply from the crucial support on the daily chart.
According to Etherscan data that a wallet named "marsbrothers.eth" added a staggering 336,292,667,662 (336.29B) SHIB, worth $2,993,004 ($2.99M) from one of the Binance-associated wallets named "Binance 15". The transaction was executed at 09:38:11 AM +UTC.
SHIB Price
The transaction comes after Shiba Inu rebounds from its crucial support at $0.00000838 on the daily chart. Shiba Inu's price seems to stabilize above $0.00000838 as bears could not take Shib below the strong support since November 9th, 2022. On Monday, December 12th, the Shiba Inu retested the $0.00000838 level for the third time.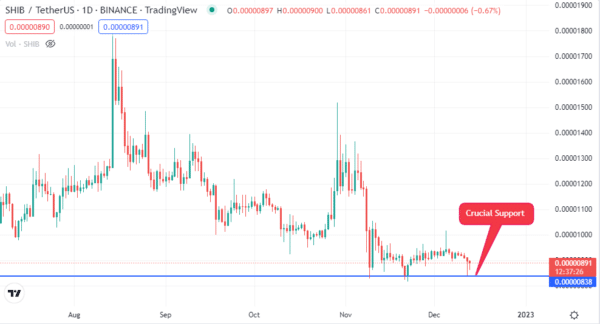 At the time of writing, Shiba Inu is trading at the price of $0.000008875, -0.20% down over the last day. Shiba Inu traders have exchanged hands with $115,401,333 ($115.40M) worth of SHIB in the past 24 hours.