Over 42.84 Million Shiba Inu (SHIB) has been burned in the past 24 hours. Two significant burn transactions come from a Cryptocom-related wallet.
Shiba Inu Community has decreased the circulating supply of Shiba Inu by 42,842,867 (42.84M) SHIB via six separate transactions in the past 24 hours.
In the past 24 hours, there have been a total of 42,842,867 $SHIB tokens burned and 6 transactions. Visit https://t.co/t0eRMnyZel to view the overall total of #SHIB tokens burned, circulating supply, and more. #shibarmy

— Shibburn (@shibburn) December 13, 2022
Over 34.95 Million SHIB Burned by Cryptocom-related Wallet
A whopping 34.95 Million SHIB has been sent to the "inferno'' addresses in two separate transactions via a Cryptocom-related wallet tagged "Crypto.com 2".
As reported earlier by The Crypto Basic, the said wallet permanently removed 19,400,000 (19.40M) SHIB from circulation in the first transaction. After the first burn, the same Cryptocom-related wallet executed a second transaction about six hours ago from press time and took out another 15,550,995 (15.55M) SHIB from circulation forever.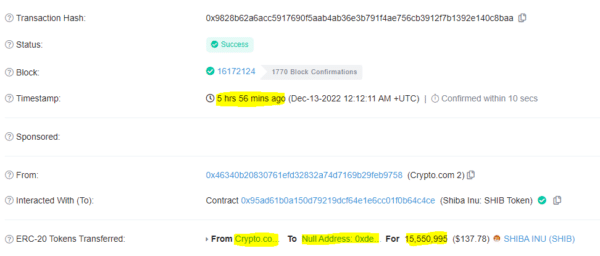 In total, the wallet incinerated 34,950,995 (34.95M) SHIB via two separate transactions in the past 24 hours and became the major SHIB Burn contributor of the Day.
Shib Burn Rate
As per Shibburn.com, the massive SHIB burns above increased Shiba Inu's burn rate by 132.65% over the last day.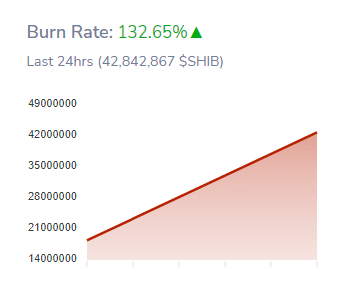 At the time of writing, Shiba Inu is trading at the price of $0.000008861, up 0.33% over the last day, with a 24-hour trading volume of $95,534,747 ($95.53M).