Over 1.8 million CMC users track Shiba Inu price movements on CoinMarketCap.
There is no doubt that Shiba Inu is currently among the top popular cryptocurrencies in existence. Shiba Inu has a large following on social media platforms, especially Twitter. The crypto asset boasts over 3.6M followers on the popular microblogging platform.
Aside from its growing social media following, Shiba Inu's following on cryptocurrency aggregator platform CoinMarketCap has also gained momentum. Nearly 2M CoinMarketCap users have Shiba Inu on their watchlists. According to CMC data, 1,809,792 users added Shiba Inu to their watchlist.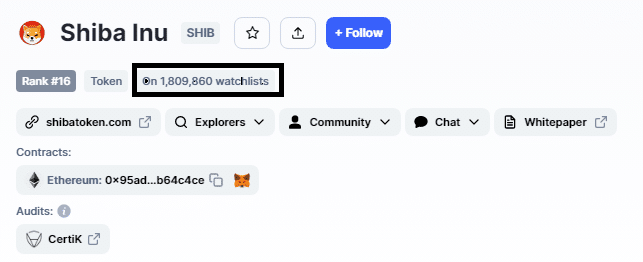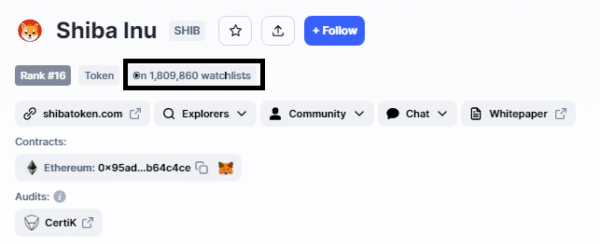 The CMC Watchlist is a feature that helps cryptocurrency investors track their profits and loss on a particular asset. The feature provides CoinMarketCap users with instant price notifications on the crypto assets on their watchlists, thus informing them about the performance of the asset. Crypto traders can utilize the feature to make swift trading decisions.
Meanwhile, Shiba Inu is among the top 10 most viewed crypto assets on CoinMarketCap. Per CMC data, Shiba Inu is ranked as the seventh-most visited cryptocurrency on the aggregator platform. Shiba Inu sits above XRP, Solana, and Deep Network. However, the canine-themed cryptocurrency is behind Terra Classic, Ethereum, Binance Coin, Bitcoin, etc.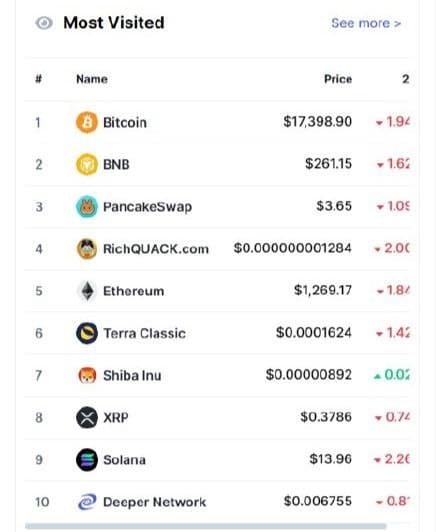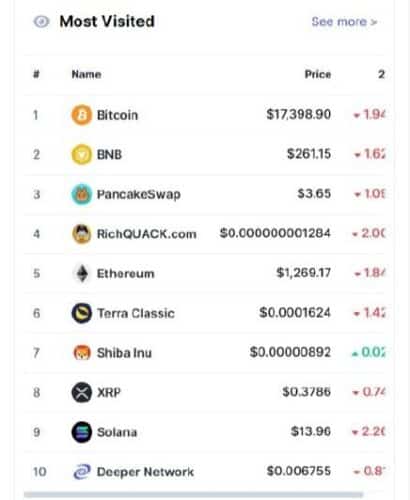 Growing Shiba Inu Adoption
It is not surprising to see Shiba Inu on the watchlists of many CMC users. Despite the crash of Shiba Inu price due to several political and economic events in the crypto market, including Terra and FTX collapse, investors are still not deterred from purchasing vast volumes of the asset class. In recent times, SHIB has attracted the interest of top crypto traders. Deep-pocketed investors are still in the business of scooping astounding amounts of SHIB as they continue to anticipate an imminent price surge.
As reported this week, Shiba Inu ranked as the sixth-largest cryptocurrency held by the top 100 whales on the Ethereum network. According to the data, the top 100 ETH whales hold a combined 5.76T SHIB worth around $52.83M. The massive SHIB holdings among the top 100 ETH whales come after an anonymous whale scooped 1.9T Shiba Inu tokens earlier this week.
At press time, Shiba Inu is changing hands at around $0.000008947, up 1% in the past 24 hours.
Follow Us on Twitter and Facebook.
Disclaimer: This content is informational and should not be considered financial advice. The views expressed in this article may include the author's personal opinions and do not reflect The Crypto Basic's opinion. Readers are encouraged to do thorough research before making any investment decisions. The Crypto Basic is not responsible for any financial losses.
-Advertisement-