Tracking XRP price movement has become easier and better since Twitter added cryptocurrency to its cashtag feature.
Less than a month after Twitter Business Account introduced its "Cashtag" feature, the social media giant has silently added support for XRP.
Through the support of XRP, enthusiasts of the cryptocurrency can keep track of the token's price directly on the social media platform. By tweeting or searching the XRP ticker symbol with a dollar sign ($) in front, Twitter will take the user to a new page showing the pricing graph of the cryptocurrency.
Users can click the "View on Robinhood" button for more details about XRP price movement or click the pricing graph to be redirected to a more interactive graph powered by Trading View.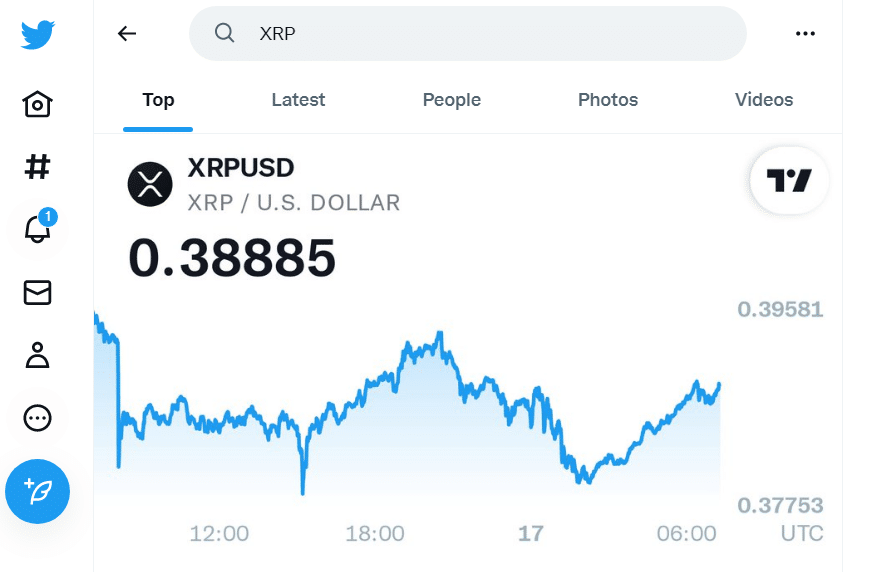 Twitter's Cashtag Feature
The Cashtag feature is an initiative that allows users to keep track of the prices of individual cryptocurrencies and major stocks. It bears mentioning that the feature was introduced on December 21 by the Twitter Business unit. During the introduction, Twitter initially added support for the two largest cryptocurrencies by market cap – Bitcoin (BTC) and Ethereum (ETH). 
Interestingly, the leading social media platform has continued to add support for more cryptocurrencies daily. Aside from XRP, other crypto assets supported by the service include Dogecoin (DOGE), Litecoin (LTC), Cardano (ADA), Binance USD (BUSD), Solana (SOL), Shiba Inu, etc. 
Last week, TheCryptoBasic reported that Twitter added Shiba Inu to the list of supported cryptocurrency assets, whose prices can be tracked directly on the social media platform.
Ripple v. SEC Impact on XRP
Meanwhile, the initiative comes when XRP enthusiasts are eagerly looking for updates related to the SEC v. Ripple lawsuit. It is common knowledge that the events in the case determine the price of XRP. An update in favor of Ripple usually bolsters XRP's price. In comparison, if the lawsuit update is in favor of the Securities and Exchange Commission, XRP usually suffers a dip.
Notably, the case is currently in the summary judgment stage. Many, including attorney Jeremy Hogan, expect Judge Analisa Torres to rule on the final outcome on or before the end of Q1 2023. 
At press time, XRP is changing hands around $0.387, down 1.8% in the past 24 hours.  
Follow Us on Twitter and Facebook.
Disclaimer: This content is informational and should not be considered financial advice. The views expressed in this article may include the author's personal opinions and do not reflect The Crypto Basic's opinion. Readers are encouraged to do thorough research before making any investment decisions. The Crypto Basic is not responsible for any financial losses.
-Advertisement-