Shiba Inu Burn Rate surges as millions of tokens are burnt.
Shiba Inu's burn rate has seen a significant increase of 21712% in the past day, as Shiba Inu enthusiasts removed over 21.81 Million SHIB in the past 24 hours. A single wallet alone burned 17.59 Million SHIB.
The efforts of the community to reduce the amount of Shiba Inu Coin in circulation have been making steady progress. According to Shibburn.com, the rate at which SHIB coins are being removed from circulation has dramatically increased by 21712.21% over the last 24 hours. The burn rate surged so much because on Jan 26th only 100,000 Shib were burnt.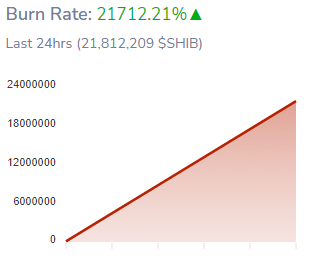 Shib Army has accomplished this by sending a large amount of SHIB tokens, specifically 21,812,209 (21.81M) to the dead wallet through five separate transactions in the past day.
In the past 24 hours, there have been a total of 21,812,209 $SHIB tokens burned and 5 transactions. Visit https://t.co/t0eRMnyZel to view the overall total of #SHIB tokens burned, circulating supply, and more. #shibarmy

— Shibburn (@shibburn) January 27, 2023
The most significant Shiba Inu burn event was carried out by an unknown wallet. This wallet destroyed a total of 17,597,260 (17.59M) SHIB in a single transaction, after acquiring it from one of the wallets associated with Singapore-based crypto exchange, Crypto.com, labeled as "Crypto.com 2". As per Etherscan.io, the transaction occurred exactly at 08:22:35 PM +UTC on January 26, 2023.

On the other hand, Shiba Inu has become the most significant crypto holding among the top 2000 largest holders of ETH, also known as "whales". These whales currently hold a total of $589,522,635 (589.52M) worth of SHIB tokens.
🐳 The top 2000 #ETH whales are hodling

$589,522,635 $SHIB
$149,159,118 $BEST
$91,570,503 $MATIC
$87,028,292 $BIT
$85,236,776 $LOCUS
$70,691,490 $LINK
$63,051,164 $UNI
$61,466,449 $QNT

Whale leaderboard 👇https://t.co/R19lKnPlsK pic.twitter.com/XikaQOekvY

— WhaleStats (tracking crypto whales) (@WhaleStats) January 26, 2023