What is EtherPOS and what are the roles of the ETPOS token?
ETHERPOS is a staking network that provides technology for custodial digital currencies, global payments, and applications. The community has built a thriving digital economy, offering content creators a whole new way to make money online.
EtherPOS provides a popular and secure computing platform for ETHERPOS investors by using simple and secure blockchain technology and intends to build an EtherPOS exchange. EtherPOS aims to be a leader in blockchain-based security services by providing high-quality innovative, leading-edge solutions built on a secure infrastructure and developed by leading industry practitioners and partners. EtherPOS validators are being recruited. One of the conditions for becoming a validator is to hold ETPOS tokens. Their job is to confirm new ether coins to be distributed on the network.
"EtherPOS has a Unique Algorithm, How Token can have a Function Like Coin"
ETPOS is a cryptographic token that runs on Binance Smart Chain (BSC). ETPOS is inspired by using a technical protocol similar to Ethereum. It works by selecting validators in proportion to the amount of cryptocurrency staked.
The EtherPOS token (ETPOS) has passed the SOLID Proof audit, the audit address is  app.solidproof.io.
ETPOS Token Overview
Token Name: EtherPoS (ETPOS)
Total Supplies: 100,000
Max Supply: 100,000,000
Based Chain: BSC
Coinstore.com Listing
Trading Pair: ETPOS/USDT
Trade Time: TBA
Withdrawal Time: TBA
What are the utilities of the ETPOS tokens?
Staking Program (Validator): The Staking Program is the main ecosystem of the ETPOS token. In particular, ETPOS token rewards are distributed to validators directly into wallets in the form of new ETPOS tokens and increase the supply of Tokens, and each individual or entity can get new ETPOS token rewards when they participate. After the contract period ends, each validator can still withdraw his ETPOS tokens when needed.
NFT Card Marketplace: NFT cards are used to activate Etherpos staking contracts. NFT cards serve a variety of purposes, including determining the minimum and maximum stake amounts; the Maximum Staking Period; The number of tokens locked in the contract. EtherPOS Staking requires an NFT card, currently available in 4 versions (V20, V50n, V100, and V500) and they can be purchased on EtherPOS.io's NFT Marketplace.
Burning Program: ETPOS tokens will be carried out in an open and transparent program. Burning will be carried out automatically from tokens locked in the system and reduce the total supply of tokens in the ETPOS Network..
Executive Validator (coming soon): An executive validator. Verifiers can earn commissions by inviting others to purchase NFT cards through exclusive links. Users can become validators and participate in performing validation.
"EtherPOS is a fully functioning web3 browser that can be used to interact with any decentralized application (Dapp)"
ETPOS's Tokenomics
ETPOS tokens will be distributed to Validators, Partnerships, Liquidity, Teams, and Marketing to promote and develop the ecosystem.
Data Source: The above information is taken from EtherPOS official website and the EtherPOS project whitepaper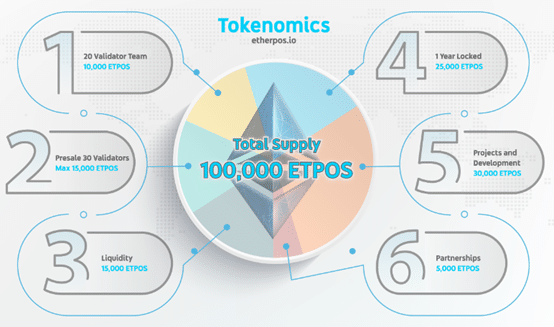 EtherPOS Official Media
Website | Twitter (@etherpos22) | Telegram
About Coinstore.com
Accessibility. Security. Equity.
As a leading global platform for cryptocurrency and blockchain technology, Coinstore seeks to build an ecosystem that grants everyone access to digital assets and blockchain technology. With over 2.3 million users worldwide, Coinstore aims to become the preferred cryptocurrency trading platform and digital service provider worldwide.
Coinstore Media Contact
Song Yuchen, Marketing Director | yuchen@coinstore.com
Bommi Hua, Marketing Manager | Bommi.hua@coinstore.com
Jennifer Lu, Co-Founder | Jennifer.lu@coinstore.com