The move occurred over 14 transactions in the last 13 hours.
Binance has moved 6.4 trillion SHIB to an anonymous wallet in the past 13 hours at the time of writing, according to Etherscan data.
The transactions were also highlighted by Whale Alert.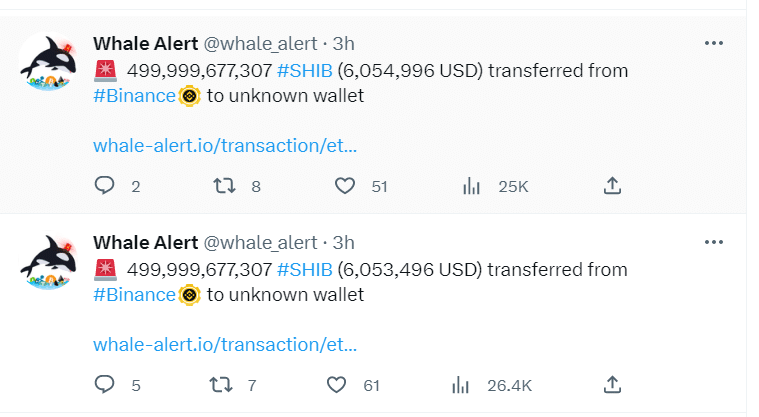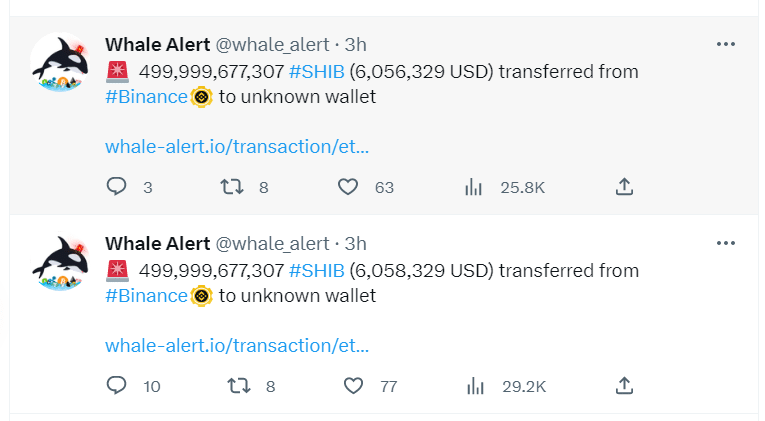 Notably, the transfer happened over 14 transactions, with The Crypto Basic reporting on four totaling 1.6 trillion SHIB yesterday.
The leading crypto exchange per data on the anonymous wallet first sent 1 million SHIB to the wallet roughly 13 hours ago before initiating the transactions reported yesterday. In addition, following the four transactions reported yesterday, it made two transfers of 449,999,668,412 (~450 billion) SHIB, six transfers of 499,999,677,307 (~500 billion) SHIB, and a single transfer of 370,320,528,788.4 (370.3 billion) SHIB to the unknown wallet.
It brought the total Binance-identified transfers to the wallet to about 6.4 trillion SHIB. However, at the time of writing, the wallet's balance shows only about 5.9 trillion SHIB, valued at over $74 million at current rates. It implies that some of the funds received have moved once more.
The reason for the transactions remains unclear, and Binance is yet to respond to a request for comment.
These are the latest in a long line of massive Shiba Inu transactions observed in recent weeks. As reported yesterday, bankrupt crypto lender Voyager moved 270 billion SHIB to US-based crypto exchanges.
Meanwhile, these transfers appear to have had no negative impact on the price of the popular doggy-themed crypto. At the time of writing, it is the top gainer among the top 20 crypto assets by market cap, one of the few assets to be printing any gains, as we witness what appears to be a market-wide correction.
It is trading for $0.00001248, up 3.07% in the last 24 hours. The 4-hour price chart shows that the price is pushing up, but it faces resistance around the $0.00001258 price point.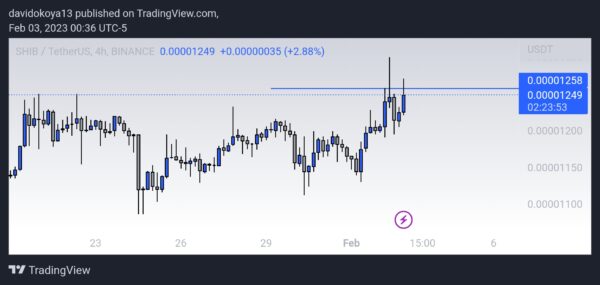 As reported by The Crypto Basic Binance is the biggest holder of Shiba Inu, holding 83 Trillion SHIB, worth $738,549,274 ($738.54M) in two of its wallets tagged "Binance 28" and "Binance 8".