The report reveals that the node hosting service's cumulative voting power never reached chain-breaking levels, as detractors previously claimed.
Node hosting provider Allnodes has released a transparency report detailing its voting power statistics for Tendermint blockchains to respond further to concerns about its operations, particularly regarding the Terra Classic chain.
Allnodes shared the report in a tweet yesterday, revealing that it will update the data daily. It also assured those concerned about its high cumulative voting power on the Terra Classic network that it is taking steps to bring it down.
Transparency is key! We're proud to release VP statistics for Tendermint-based networks on Allnodes. The stats are updated every day. To those concerned about our high cumulative VP on $LUNC: rest assured, we're taking actions to bring VP down. Stay tuned! https://t.co/9FpnwQQUHh pic.twitter.com/t4e4QoGzKs

— Allnodes (@Allnodes) February 7, 2023
The report reveals that the node hosting service's cumulative voting power never attained chain-breaking levels, as Notional Labs founder Jacob Gadikian asserted. 
Recall that Gadikian had asserted that Allnodes, besides holding the seed phrases of validators using its service, also attained 40% cumulative voting power on the Terra Classic chain. Theoretically, a validator having more than 33% voting power could break the chain. 
However, per the report, the highest cumulative voting power attained by Allnodes was 32% on Jan. 24. Currently, this metric is between 30 and 31%. 
While this is still a significantly high number, it puts some of the community's fears to bed. However, it is worth noting that validators using the service still face the risk of compromise. Consequently, community influencers like LUNC DAO are calling on the node hosting provider to release a list of Terra Classic validators using its service.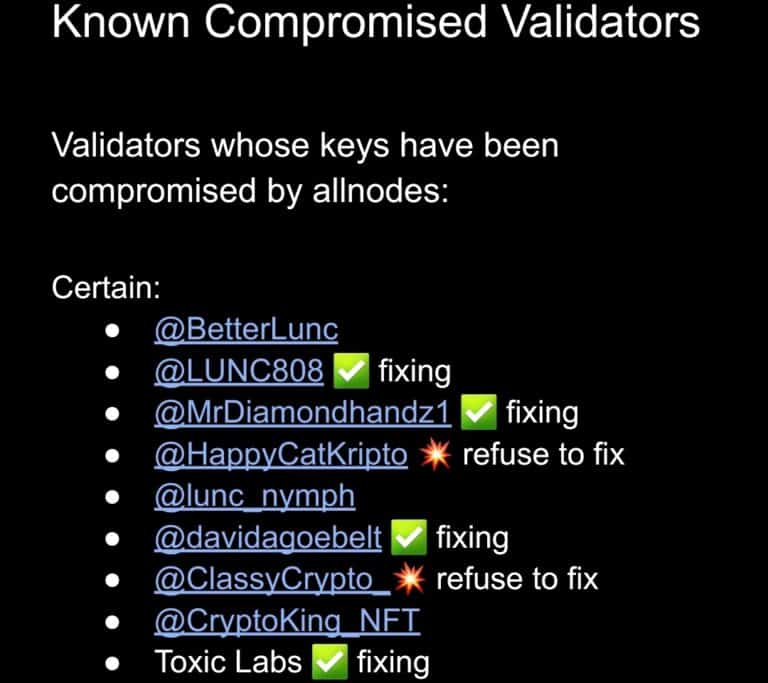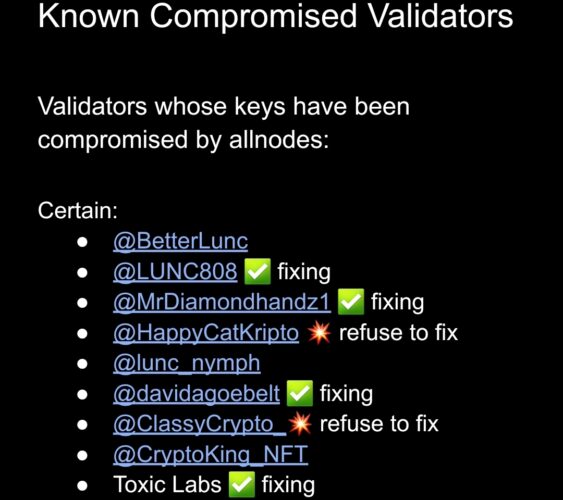 As reported last month, Allnodes has launched a non-custodial node management service to give Tendermint validators complete control of their information. However, again, this does not address the plight of existing users. Some community members have asked these validators to sunset the present nodes and launch a new one, even as Gadikian calls on community members to delegate their Terra Luna Classic (LUNC) elsewhere.
Meanwhile, Terra Classic core developer and director of the Terra Grants Foundation, Edward Kim, has asserted that his focus is on significantly reducing Allnodes' voting power as it will equally reduce the risk to the chain. To this end, Allnodes has increased its commissions to 10%. Kim had asserted that he would encourage the node management service to increase it further if necessary.
Smart Stake Analytics data shows that the Allnodes validator alone has 15.62% voting power. It has lost 51 unique delegates in the last 24 hours.
Follow Us on Twitter and Facebook.
Disclaimer: This content is informational and should not be considered financial advice. The views expressed in this article may include the author's personal opinions and do not reflect The Crypto Basic's opinion. Readers are encouraged to do thorough research before making any investment decisions. The Crypto Basic is not responsible for any financial losses.
-Advertisement-