The metric underscores the high level of confidence that most Bitcoin investors have.
The average time that Bitcoin (BTC) stays in an address before being transferred is reported to be 3.8 years, indicating that most investors resort to holding onto their Bitcoins for an extended period. This metric underscores a high confidence level in the asset as a reliable store of value.
The metric was recently highlighted by the crypto market intelligence platform IntoTheBlock.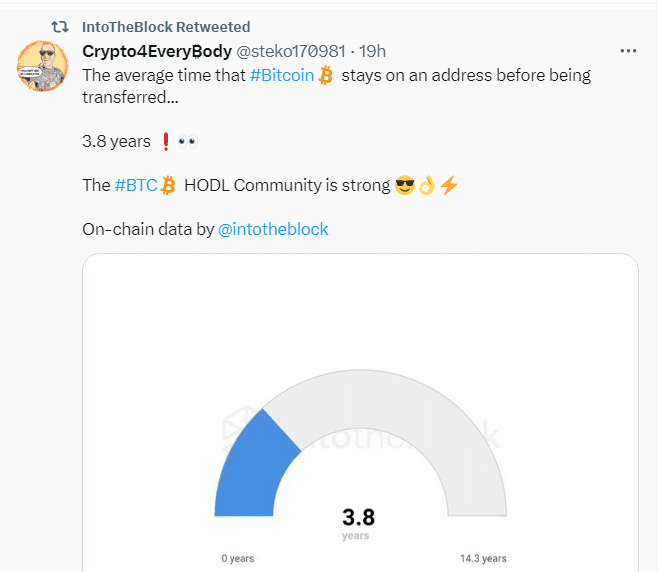 A hold time of 3.8 years suggests that investors are confident in the asset's long-term prospects and are not quick to sell, even in the face of short-term price fluctuations. This data also provides insight into the overall maturity of the Bitcoin market. As the average hold time increases, it suggests that more experienced and long-term-oriented investors are entering the market, as opposed to short-term speculators.
The HODLing trend has remained dominant since the start of the year despite the periodic hiccups in Bitcoin's price movements. The CryptoQuant Binary CDD indicator reveals a relatively low long-term holders' movement.
Moreover, crypto behavior analytics platform Santiment disclosed that BTC taken out of exchanges, recently hit an all-time high of 18.12 million tokens, valued at $416.5B at the time. According to Santiment, investors have continuously sent their BTC tokens to self-custodial platforms – a move that signals an intent to hold their assets for an extended period of time.
💸 #Bitcoin's existing supply continues moving to self-custody as prices range at $23k here in early February. There is now $416.5B in $BTC sitting away from exchanges, and $29.2B in $BTC on exchanges. So there is 14.26x the coins off exchanges vs. on. https://t.co/MU4UAUY5Mv pic.twitter.com/oZYoSf6tgY

— Santiment (@santimentfeed) February 7, 2023
Analysts Remain Bullish on Bitcoin
Meanwhile, Bitcoin has recently been hit with fierce opposition that has seen it decline by 4.18% in the last week. Following the retest of the $24K territory, the asset has been battered to below $23K, currently changing hands at $22,762, with a 1.56% drop in the past 24 hours. Notwithstanding this recent crash, BTC is still up 37% this year.
Moreover, despite the drop, some analysts remain bullish on the asset's long-term prospects this year. CryptoQuant analyst BinhDang revealed yesterday that the BTC SOPR ratio confirms that the asset is finally gearing up for a bullish trend reversal. BinhDang highlighted the Triple Exponential Moving Average (50) and the crossover of the 50-day and 100-day moving averages to ascertain his analysis.