Ripple leads the latest rounds of large XRP transfers.
Whale Alert has reported a significant XRP transaction made by Ripple in the late hours of yesterday. According to the crypto whale tracking service, Ripple Labs moved 100 million XRP worth $39.2 million to a wallet tagged as unknown.
🚨 🚨 🚨 100,000,000 #XRP (39,209,451 USD) transferred from Ripple to unknown wallethttps://t.co/ifmZG9vG07

— Whale Alert (@whale_alert) February 21, 2023
However, an analysis by TheCryptoBasic revealed that Ripple owns the wallet where the funds were sent. The shifted XRP will likely be sent to exchanges to support XRP liquidity on crypto trading platforms. 
Furthermore, Ripple could send the funds to clients of its On-Demand Liquidity (ODL) solution. It is worth noting that the ODL solution utilizes XRP as a bridge currency for cross-border settlements. 
Ripple has been relatively active in moving vast chunks of XRP in recent times. According to data from Whale Alert, the leading blockchain company shuffled 510 million XRP in a series of transactions two days ago.
While Whale Alert reported that unknown whales made the transactions, data from the XRP-focused analytics platform Bithomp shows that the sender of both funds was Ripple.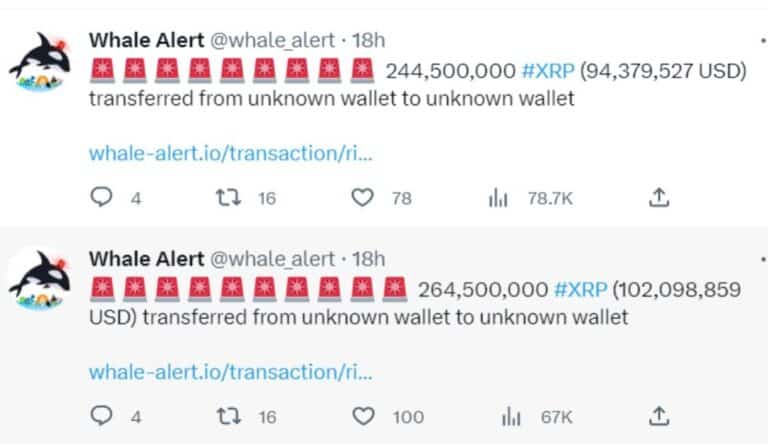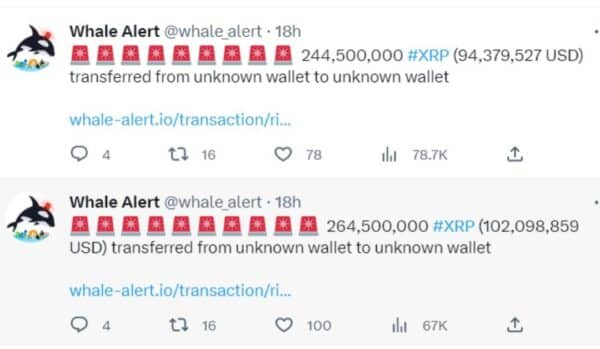 These transactions come three weeks after Ripple unlocked 1 billion XRP from escrow. The leading blockchain company locked back 600 million XRP in escrow, while the remaining 400 million XRP were set aside to cater to the company's day-to-day operations.
Whales Shuffle 85 Million XRP
Aside from Ripple shuffling XRP, Whale Alert shared other large XRP transactions in the past 24 hours. According to Whale Alert, an anonymous whale withdrew 50,304,136 (50.3M) XRP from the world's largest cryptocurrency exchange Binance. The transaction, which took place 23 hours ago, was worth $19.76M. 
🚨 50,304,136 #XRP (19,761,873 USD) transferred from #Binance to unknown wallethttps://t.co/NkUuEZCMsm

— Whale Alert (@whale_alert) February 21, 2023
In addition, a deep-pocketed cryptocurrency whale deposited 35 million XRP ($13.68M) to the EU-based cryptocurrency exchange Bitstamp.
🚨 35,000,000 #XRP (13,688,319 USD) transferred from unknown wallet to #Bitstamphttps://t.co/5PQmEIYjQB

— Whale Alert (@whale_alert) February 21, 2023
Meanwhile, the value of XRP has slumped alongside other crypto assets in the market. According to data from Coingecko, XRP is changing hands at $0.391, down 2% in the past 24 hours.
Follow Us on Twitter and Facebook.
Disclaimer: This content is informational and should not be considered financial advice. The views expressed in this article may include the author's personal opinions and do not reflect The Crypto Basic's opinion. Readers are encouraged to do thorough research before making any investment decisions. The Crypto Basic is not responsible for any financial losses.
-Advertisement-