Bone ShibaSwap, one of the Shiba Inu ecosystem coins, hits new milestones as more than 76,000 addresses now hold BONE.
According to data from Etherscan.io, the number of unique wallet addresses holding Bone ShibaSwap has reached 76,206 (76.20K).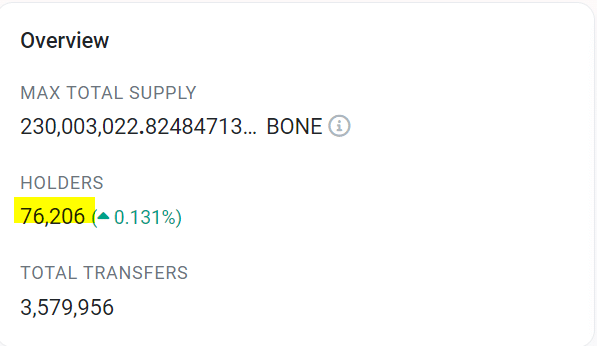 This milestone was reached after Gate.io, a major US-based cryptocurrency exchange with a user base of over 12 million, added support for Bone ShibaSwap on its platform.
In addition, Bone ShibaSwap has recently been included in the list of the world's top 100 biggest cryptocurrencies based on market capitalization. With a current market cap of $443.35M, BONE is ranked 95th on the list.
The value of BONE has been rising consistently and is expected to reach the $2 mark soon. Bone ShibaSwap is being traded at $1.96, representing a 2.05% increase over the past day. The 24-hour trading volume for BONE is $22,251,975 ($22.25M).
Bone ShibaSwap has been delivering impressive performance over the past few months, mainly since the rumors surrounding the launch of the Shibarium – Layer 2 solution emerged. According to CoinGecko data, the value of Bone ShibaSwap has grown by 43.30% over the past three months, 23.7% in the past 14 days, and 34.30% over the past week.