CoinMerge features BONE as the first crypto project to utilize its new updates.
Shiba Inu's governance token Bone ShibaSwap has continued to make headlines ahead of the launch of Shibarium. In a tweet today, CoinMerge, an emerging cryptocurrency platform, selected BONE as the first featured token to leverage its newly launched "update" feature.
CoinMerge noted in the tweet that it would be rolling out new updates, such as GIGA charts, asset tracker, and mobile UI/UX. The cryptocurrency platform selected Bone ShibaSwap as the first featured project to roll out with the update. The official handle of CoinMerge congratulated BONE holders for the milestone, saying: 
"Congrats to BONE! Our First Featured Project [with] the Updates!"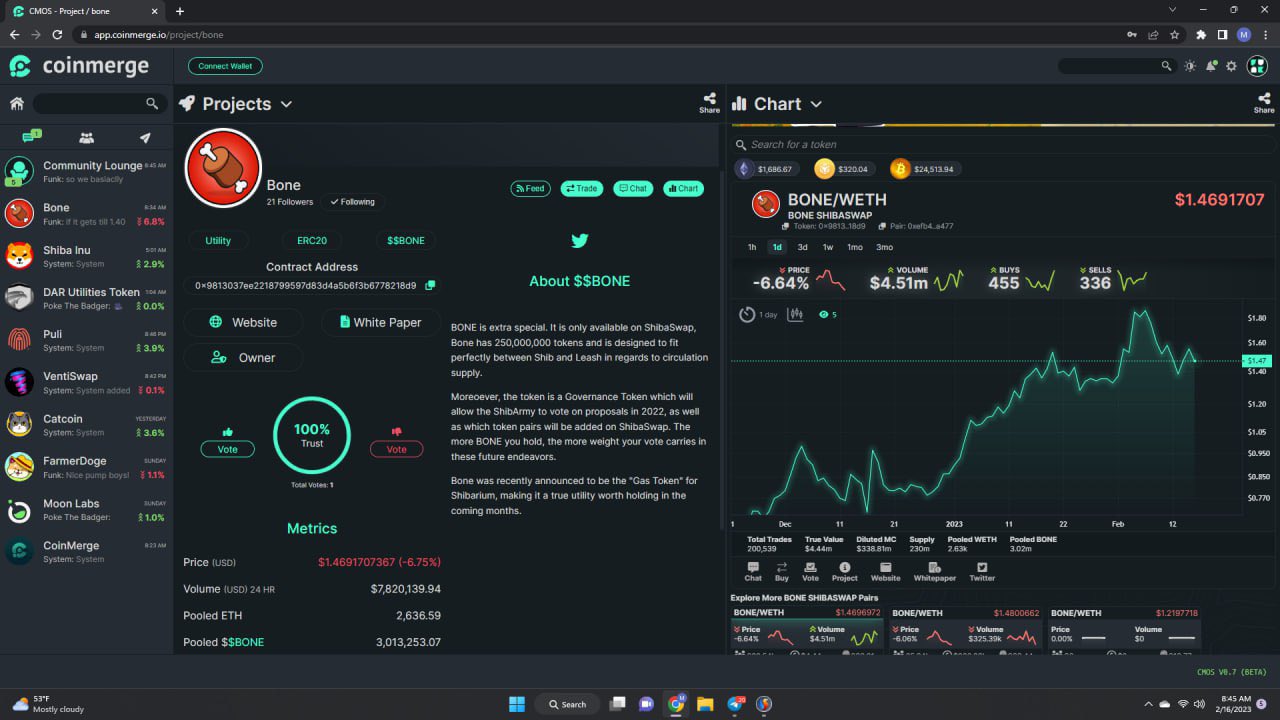 The Twitter handle attached a screenshot of the update featuring Shiba Inu's governance token. Notably, the image depicts the price chart of BONE, an ABOUT section for BONE, a smart contract address, a website, a Trust score for BONE, and other key metrics of the token, including the crypto asset's order book, market cap, etc. 
The development comes less than a week after CoinMerge announced the launch of its native token, the CoinMerge Operating System (CMOS). The company also said it would launch a crypto library to give developers access to unlimited data that will enable them to build their projects.
It is not surprising to see top exchanges showcase enormous interest in BONE. The team behind Shiba Inu explained that BONE would be the official gas token for Shibarium. With the launch of the L2 network just around the corner, crypto community members have shown interest in the token, prompting exchanges to list it.
At press time, BONE is changing hands at around $1.5, down 6.6% in the past 24 hours. The token is the 139th-largest crypto asset with a market cap of $347.7 million.