Coinbase Director Shares Details of Untouched Ethereum ICO Mysterious Participant Holding 250,000 Ethereum (ETH).
Coinbase Director said the individual had not made any transactions since the Ethereum ICO event.
Cornor Grogan, Director at Coinbase, has shared details about an Ethereum ICO participant that has remained inactive since the event concluded. According to Grogan, the ICO participant spent $75K during the ICO event, which saw him receive a whopping 250K ETH.
Grogan, who described the wallet as the most mysterious address in all of crypto, said the wallet has remained untouched since after the ICO with no single transaction made so far.
It bears mentioning that the Ethereum team sold ETH at $0.31 during the ICO. Interestingly, the $75K investment has surged tremendously to $402 million. Grogan also said the unknown individual received $6.5 million in airdrops by holding 87x of his or her initial investment.
Coinbase Director noted that the wallet was the only untouched whale he could find following his research.
This is the only untouched ICO whale wallet I could find

Imagine the mental fortitude of holding through multiple bull and bear markets. Though the far more likely outcome is they lost their keys 😅https://t.co/emWdt2DL0h

0x2b6ed29a95753c3ad948348e3e7b1a251080ffb9

— Conor (@jconorgrogan) February 26, 2023
Other Ethereum ICO Participants
More details about Ethereum ICO participants have been shared recently, with many of these investors recording huge returns. On February 20, Grogan revealed that the minimum investment during Ethereum's ICO was $4. He shared the transaction details of 17 people who invested around $4 during the ICO event.
One of the investors saw his or her $4.14 initial investment spike to a whopping $14,422 before selling, while another ICO participant who invested $4.14 sold when the investment was worth $11.90.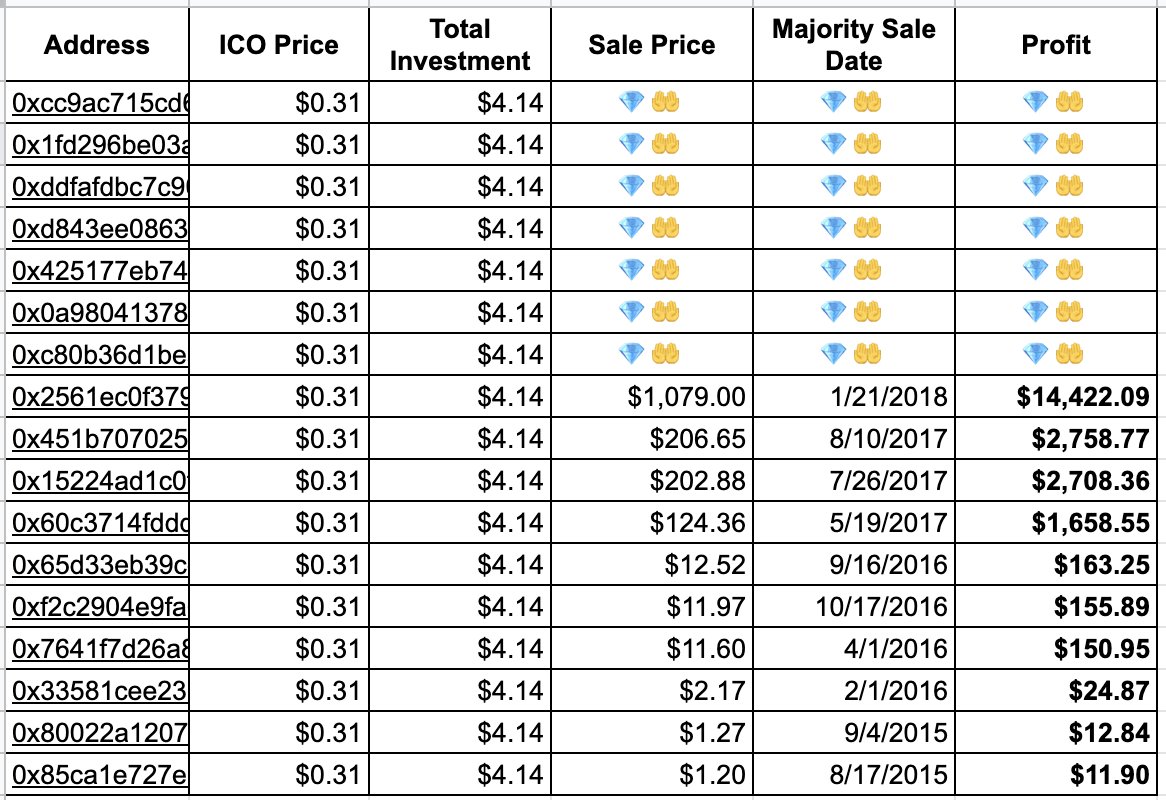 Meanwhile, Lookonchain, a popular cryptocurrency on-chain analytics platform, highlighted Grogan's tweet to share details of one of Ethereum's ICO participants. 
According to Lookonchain, one of the ICO participants who received 560K ETH during the event transferred 40K ETH worth $65 million to another address. The recipient of the 40K ETH subsequently minted $11 million worth of DAI stablecoin.
Conor(@jconorgrogan), the director of @coinbase, found an #Ethereum ICO participant with 250K $ETH has not touched his wallet so far.

We found an #Ethereum ICO participant (got 560K $ETH) who transferred 40K $ETH($65M) out yesterday and minted 11M $DAI.https://t.co/OzDlw5fPzI pic.twitter.com/LDY4PiRHRU

— Lookonchain (@lookonchain) February 27, 2023
Lookonchain's disclosure comes days after it reported that an Ethereum ICO participant who has been dormant for three years moved 5,055 ETH ($8.5M) to a new address on February 23. Per Lookonchain, the individual received 10,100 ETH during the ICO.
An #Ethereum ICO participant who has been dormant for 3 years transferred 5,055 $ETH($8.3M) to a new address 2 hours ago.

He/she received 10,100 $ETH at Ethereum Genesis, the ETH ICO price is ~$0.31.https://t.co/Vzr0srcLeH pic.twitter.com/UATXBkXOeU

— Lookonchain (@lookonchain) February 23, 2023